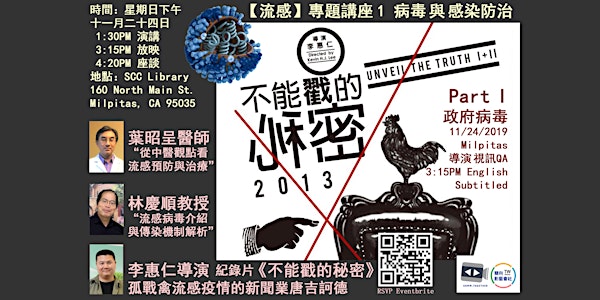 【流感】專題講座 及《不能戳的秘密》紀錄片放映+導演QA AI Viruses Documentary + Panel(Mandarin Event)
When and where
Location
Milpitas Library Auditorium 160 North Main Street Milpitas, CA 95035
Description
Free documentary screening (a Mandarin event, film with English & Chinese Subtitles)see more English info below.

【流感專題講座】1 (with 紀錄片《不能戳的秘密》放映+座談)

流感季節到了,一起來認識病毒與感染機制,也關心年度流感的注意事項。
除了特約嘉賓葉昭呈醫師和林慶順教授的演講提點之外,這次的影片討論的例子是台灣在第二次政黨輪替前後產官學對於禽流感疫情的處理及體制現形的第一手觀察的其中第一部。李惠仁導演將於映後連線加入討論,視訊答詢。
影片放映結束後請留步,講座討論與心得分享精彩可期。
【地點】Milpitas Library Auditorium
Address: 160 North Main Street, Milpitas, CA 95035
Parking 停車: see map, 圖書館的停車場有四層, main entrance is on the first floor.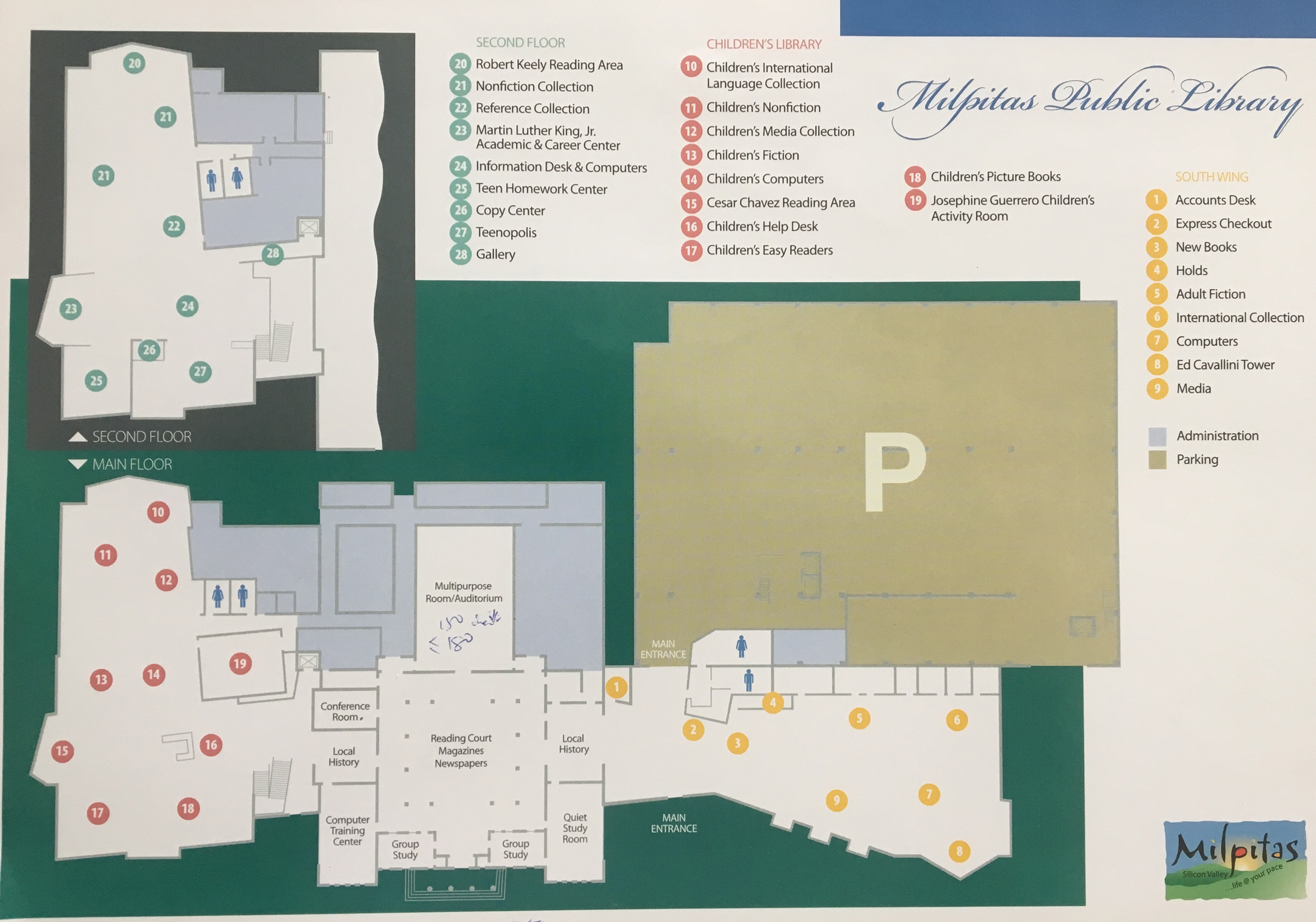 【時間】
11/24/2019 Sunday 週日下午
【活動大綱】(Agenda)
1:00pm Door Open 開放入場,音樂+預告片
1:30pm Intro 開場
1:45pm Lecture 演講 葉昭呈醫師 "從中醫觀點看流感預防與治療"
2:30pm Lecture 演講 林慶順教授 "流感病毒介紹與傳染機制解析"
3:15pm Screening 《不能戳的秘密》本片開始
4:20pm Panel Discussion (Mandarin) 座談開始
5:25pm Social and cleanup 交誼+清場(+optional dinner meet, TBA)

【預告片 HD 地方版】https://youtu.be/i0kEwqYGZm8
【語言】Mandarin/Taiwanese 國語/台語; with English and Chinese subtitles 影片含中/英文字幕. The event is conducted in Mandarin Chinese(本場講座/討論以國語為主。English translation availability not guaranteed)
【報名】RSVP at https://utt1.eventbrite.com
請預先在Eventbrite免費報名確保座位,額滿截止。可留下E-mail,以便收到E-mail提醒,並幫助我們估備座位, thanks! It's optional to provide your e-mail address so you will get reminders and be included to our mail list to receive future event motices. If you choose not to disclose your e-mail, please enter "a@b.com" so we know you are coming and save the number of seat(s) you request.

本次活動恕不提供塑膠瓶裝水。歡迎自備杯具,圖書館有飲水供應。
請注意活動影片內容及嘉賓言論不代表主辦及協辦組織立場。
【主辦單位】
雙向影藝會社 Two-Way Theater (TWT),
【協辦單位】歡迎共襄盛舉
【特約嘉賓及簡介】座談 Panelists/Moderater short bio's (按姓名拼音順序)
林慶順教授

林慶順教授是微生物學/分子生物學博士,在加州大學舊金山分校(UCSF)醫學院擔任教授22年(現已退休),擁有40年的醫學研究經驗,在世界知名醫學期刊發表近200篇研究論文,擔任60多家醫學期刊的評審。他在2016年創設「科學的養生保健」網站(professorlin.com),發表基於科學證據的文章,主要目的是要破解養生保健的迷思與謠言。他現在也擔任《元氣網》,《早安健康》,《食力傳媒》,《癌症資訊網》,以及《關鍵評論》的專欄作家。他也先後在2018及2019發表《餐桌上的偽科學》及《餐桌上的偽科學2》兩本書,曾登上暢銷書排行榜第一名。
葉昭呈醫師
葉昭呈博士是加州執照針灸師,中醫藥大學博士,國際醫藥大學博士班教授 。曽於灣區華人電台、報紙及電視台擔任中醫講題嘉賓,並多次到印度及中國偏鄉參與中醫義診活動。
【內容簡介】 Google for more
《不能戳的秘密》The Government Virus
李惠仁 Kevin H.J. LEE 台灣 Taiwan│2011│HDCAM│Colour│65min
2004年,台灣首度爆發H5N2禽流感疫情,台灣的官僚系統堅稱是候鳥傳染給雞隻,但是經過調查,真相卻是不肖業者走私禽流感病毒株,非法製造疫苗。為揭發這個真相,長達六年,導演李惠仁開始在全台各地採集檢體、解剖病死雞。謊言、錄音帶、老闆、大老闆、官官相護,每天在電子與平面媒體上都有新的事證出現,讓人瞠目結舌!

【獲獎】
此片曾獲第十屆卓越新聞獎(2011年)電視類調查報導獎,是卓越新聞獎基金會首設「調查報導」類獎項,台灣第一篇得到此獎的新聞報導。
【導演】

李惠仁(英語名:Kevin H.J. Lee,1969年-),是一位台灣的紀錄片導演,前華衛新聞台、非凡新聞台、真相新聞網、超級電視台、民視新聞台、三立新聞台攝影記者,並擔任過東森電視新聞專題企劃處執行製作人、新聞公害防治基金會執行長。


【主辦及協辦網頁】
歡迎搜尋參觀主辦及協辦單位網頁:
雙向影藝會社 Two-Way Theater(TWT)歡迎加入fb群組,關心最新台灣影片放映行動! https://www.facebook.com/groups/TWtheater/
【Intro in English】
This documentary unveils the complicity between theacademics and the bureaucratic system in Taiwan. Itreveals to the audiences many undisclosed secrets andstories behind the façade created by governmentoffcials. Due to the inaccessibility and abstruseness ofpublic health expertise, the lies are hard to be exposedand the potential crisis has become a ticking timebomb...
Kevin H.J. Lee has worked as a cameraman at half of a dozen broadcasters in Taiwan since the expansion of cable TV in the 1990s. He was a producer at Eastern Broadcasting Company (EBC) before resigning on 12th February 2008, when the headlines of the day was that the former vice-president had become a grandfather. Lee has won numerous awards for his work.

- IMDb Mini Biography By: The 18th Taipei Film Festival
紙版海報,歡迎張貼佈告:
for the best quality please download pdf files