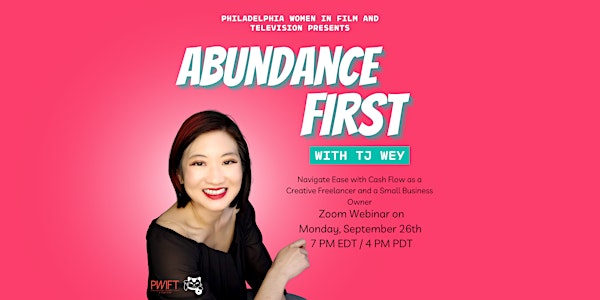 PWIFT Presents: Abundance First with TJ Wey - Navigating Ease in Cash Flow
PWIFT Presents Abundance First with TJ Wey: Cashflow Management for Creative Freelancers and Small Business Owners
About this event
What do freelancers and small business owners have in common? Their income is based on unpredictable jobs, clients, and the off-chance that they are not paying themselves properly for a quality livelihood. We often tell ourselves that we should feel lucky to be working, but it doesn't have to be that way.
There are over 32.5 million small businesses in the US and they've all helped create over 1.5 million jobs annually (SBA 2021 and Fundera, 2019). While the idea of being your own boss is intriguing, more than 20% of small enterprises fail in the initial year, and half of the market fails within the first five years (Bureau of Labor Statistics, 2021).
PWIFT caters to women filmmakers who pursue filmmaking, and we wish away the starving artist mentality.
Join us for a virtual webinar with TJ Wey, an IT Project Manager turned Cash Flow enthusiast who is on a mission to empower you to live an abundant life. For 45 minutes with a 15 minute Q&A, TJ Wey will walk through the cash flow management system that freelancers and small business owners can use to look at their finances with confidence. Even if income is inconsistent, we can leave behind the scarcity mindset.
For more information on Abundance First and TJ Wey, check out this website: https://www.abundancefirst.com/