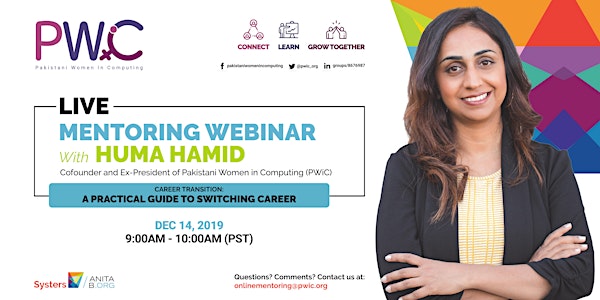 PWiC Live Mentoring: Career Transition - A Practical Guide [2]
Career Transition: A Practical Guide to Switching Career with Huma Hamid
By Pakistani Women in Computing
Date and time
Saturday, December 14, 2019 · 9 - 10am PST
About this event
Ever wondered how to find your fit and making the move? This session is focused on covering one of the most commonly asked questions during mentoring sessions.
Huma Hamid is a tech-maker, a community builder, cofounder and ex-president of Pakistani Women in Computing (PWiC). She is passionate about building digital products, platforms, diverse teams, and thriving communities. In computing, she has more than 15 years of experience working in several R&D engineering groups focused on building digital platforms to serve industries like infrastructure and construction engineering, network and communication engineering, and eLearning. During her career, she has relaunched her career several times and has transitioned into multiple roles in software engineering (Quality Analyst, Test Engineer, Test Automation Engineer, Software Engineer, Business Analyst, Project Manager, and Technical Product Manager). From her first internship to her current job, she has received several recognition awards, acknowledgments and kudos from her teams for hitting the ground running and delivering results even as a new member of the team. In addition to building digital platforms and solving complex engineering problems, Huma´s clear point of pride in creating the non-profit PWiC, an AnitaB.org affiliated community designed to provide the mentorship and guidance that she was looking for along her STEM journey.
Online Session
This session will be held online via Zoom with the selected group of mentees. Zoom link will be shared via email with accepted attendees.
Questions? Comments?
Reach out to us anytime at onlinementoring@pwic.org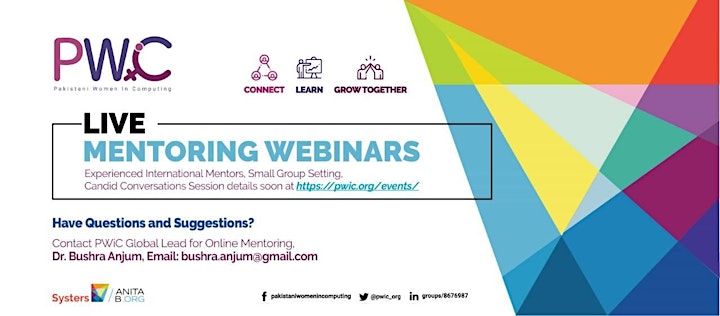 About the organizer
PWiC is a global community of women in technology fields hailing from Pakistan and its global allies, with the aim of connecting, learning and growing together!