Putting the "Data" into "Big Data"

Wednesday, May 9, 2018 from 6:30 PM to 8:30 PM (PDT)
Event Details
On Wednesday, 9 May 2018, Karl Geiger will discuss Putting the "Data" into "Big Data".


Abstract
Pity the poor data scientists. Much of the raw input they see is data exhaust from one process or another. From data smog they conjure, through the magic of various algorithms, critical insights into business operations, demographics, market trends, and operations. But what happens if the data are bad or sketchy, wrong or misunderstood? The resulting algorithmic output is still "true", leading to a phenomenon known as garbage in, gospel out. Algorithms may be fads, but data are forever. "Forever data" clear, easy to understand, well-defined, well-organized, easy to use are what data scientists need to ensure good results while keeping a full head of hair. The presentation draws on experiences from web analytics, systems logs, business informatics, telemetry, biological signals and more to define and organize data sets that are useful, clear, and durable in a simple, practicable way.


About the Speaker
Karl Geiger has been one of the most impactful Section Chairs of the Buenaventura Section and very active with IEEE from 2009 to 2013, and chaired the IEEE Los Angeles Council from 2012-2013. He retired in 2009 to work pro-bono full time with the IEEE, local start-up companies Cure Pharmaceutical, InClinical, MCI START, lectured at local colleges, supported the Moorpark College Engineering Club, Ventura County schools competitions and the national champion Moorpark High School Academic Decathlon team in which his three children competed state-wide and nationally.
Karl founded Convergent Informatics, Inc., with three Amgen colleagues in 2008. Customers included biotech companies such as Kythera Biopharmaceuticals, an eCommerce businesses, and other start-up businesses along the 101 corridor in Ventura and Los Angeles Counties. Karl also worked with the local venture communities, reviewed pitches and coached entrepreneurs. Prior to Convergent, Karl was the Director of Enterprise Architecture at Amgen, Inc., where his teams designed and documented several enterprise-class information systems. From 2013-2015 he was chief architect at Neural ID in Redwood City, CA, more recently product manager at NovaStor in Agoura, CA, and is currently retired again.
His technical interests include machine intelligence, information retrieval, database systems, human factors engineering, software test and development to support regulatory compliance, and making fun toys for the web (http://www.businessbuzzwordbingo.com/).


Agenda
Pizza and Networking: 6:30 PM
Presentation: 7:00 PM


Location
La Reina High School, Cafeteria
106 W Janss Rd
Thousand Oaks, CA 91360
Parking: Enter from Janss Road, and turn right into the lower parking lot. Parking is free.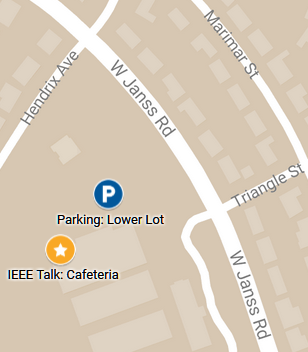 Click map to enlarge


Presented by: IEEE Buenaventura Computer Society Chapter
Save This Event
When & Where

La Reina High School, Cafeteria
106 West Janss Rd
Thousand Oaks, CA 91360


Wednesday, May 9, 2018 from 6:30 PM to 8:30 PM (PDT)
Add to my calendar
Organizer
IEEE is the world's largest technical professional organization dedicated to advancing technology for the benefit of humanity.
Learn more about IEEE Buenaventura Section at www.ieee-bv.org .
Putting the "Data" into "Big Data"