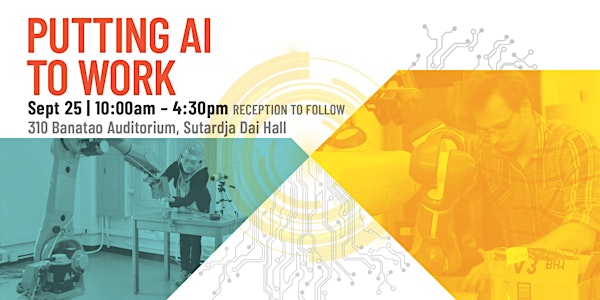 Putting AI to Work: Technology and Policy for Enabling the Workforce of the...
Location
Sutardja Dai Hall - Banatao Auditorium
330 Sutardja Dai Hall
Berkeley, CA 94720
Description
Artificial Intelligence (AI), machine learning, and assistive technologies will transform the future of work, with wide-ranging effects on employment, wages, and income distribution. Despite dystopian forecasts of robots replacing workers, AI and intelligent tools can also be applied to make the workforce more inclusive. As industries evolve, how can AI be used to extend productive professional activity, expand the available labor pool, support lifelong learning, and enhance human labor rather than replace it, especially for the aging and those with disabilities?

Hosted by CITRIS and the Banatao Institute and Microsoft, "Putting AI to Work" will bring together leading scholars, practitioners, industry representatives, and community organizations to discuss the pace and extent of the effects of AI on the future of work in relation to aging and disability. Panelists will consider a range of issues regarding workforce, technology and design trends for target populations, and policy questions for a new era of automated and adaptive workplaces.

Preliminary results from a CITRIS white paper will be presented, sharing case study examples and recommendations for the private and public sectors to ensure development and application of AI that supports a diverse workforce and further strengthens social safety nets for all.
Agenda (Participant Bios)
10:00 Registration
11:00 Welcoming Remarks
Scott Mauvais, Director, Cities, Microsoft
Camille Crittenden, Deputy Director, CITRIS and the Banatao Institute
11:15 Keynote: Jennifer Granholm, Distinguished Adjunct Professor, Goldman School of Public Policy and Former Governor of the state of Michigan
Introduced by Costas Spanos, Director, CITRIS and the Banatao Institute
12:00 Break (Box lunch served)
12:20 Pathways to Work: Recruitment and (Re)Training
This panel explores AI's potential to support new platforms for discovering employment opportunities, increasing skills, and reducing bias to achieve a workforce more inclusive of older adults and persons with disabilities.
Moderator: Dan Gillette, Senior Research Scientist, CITRIS and the Banatao Institute
Deeksha Ahuja, Business Manager, Rehabilitation Program, VA Palo Alto Healthcare System
Orianna DeMasi,

Graduate Sudent Researcher and Data Science Fellow at the Berkeley Institute for Data Science (BIDS)

Bob Dolan, Founder & Principal, Diverse Learners Consulting
Sharon Emek, CEO & President, Work at Home Vintage Experts (Wahve)
Esmeralda Madrigal, Program Director, Polytrauma Network Site (PNS)
1:20 Nature of Work: How Will AI Change the Professional Landscape?
This panel explores how AI is changing the nature of work, challenges to current scope of work, and skills necessary to participate in the future of work.
Panelists:
Moderator: Brandie Nonnecke, Research & Development Manager, CITRIS and the Banatao Institute
Ken Goldberg, Professor, Industrial Engineering and Operations Research (IEOR) and Director of the CITRIS People and Robots Initiative, UC Berkeley
Jutta Treviranus, Professor and Director of Inclusive Design Research Centre, OCAD University
John Zysman, Professor Emeritus, Political Science, UC Berkeley
2:15 Break
2:35 Continuity of Work: Enhancing & Augmenting Human Labor
Human-AI collaboration promises to support more productive and meaningful work throughout one's professional life. This panel explores ways AI is being applied, both in the workplace as well as in auxiliary services like transportation, that facilitate full and long-lasting employment.
Panelists:
Moderator: David Lindeman, Director of Health Initiative, CITRIS and the Banatao Institute
Anita Aaron, Executive Director, World Institute on Disability
Scott Collins, President and CEO, Link-age
Megan Lawrence, Accessibility Technical Evangelist, Microsoft

3:30 Keynote: Joshua Miele, Associate Director of Technology Research and Development, Rehabilitation Engineering Research Center on Low Vision and Blindness, The Smith-Kettlewell Eye Research Institute
Introduced by Megan Lawrence, Accessibility Technical Evangelist, Microsoft
4:15 Closing Remarks

4:30 Reception, Kvamme Atrium, Sutardja Dai Hall
Admission includes lunch and reception. Holders of "Faculty, Staff or Students" and "Non-profit/Gov" tickets will receive a full refund after registering at and attending the symposium on Sept. 25.
If you have any questions, please contact Dr. Brandie Nonnecke (nonnecke@citris-uc.org)
Sponsors