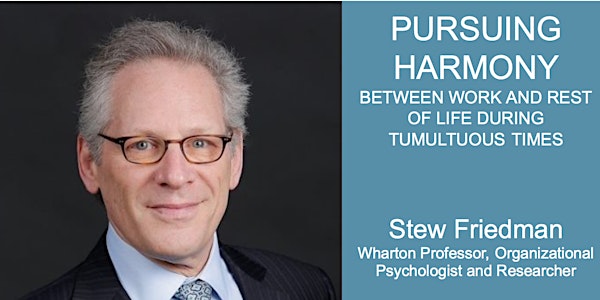 Pursuing Harmony: Work and the Rest of Life in Tumultuous Times
Discover how to pursue harmony between work and life with Stew Friedman, Wharton professor, organizational psychologist and researcher
About this event
The global health crisis, looming economic downturn, and public outcry for justice and human rights are posing serious adaptive challenges for leaders across industries and sectors. The clean lines between family and work life are blurring. Employees' health and wellbeing are clearly tied to their creativity and productivity. We are paying more attention to ensure essential workers are treated with dignity and are able to stay healthy. And as we settle into the "new normal," we may be asking whether what we are educating and training ourselves for matches what the future will demand of us.
How might this moment – with all the challenges it presents – be an opportunity for us to transform work, so that what work is, who it is for, and how work happens can center human thriving?
PURSUING HARMONY BETWEEN WORK AND THE REST OF LIFE IN TUMULTUOUS TIMES
The pandemic is blurring boundaries between our work, home, community, and private lives.  Political, cultural, and environmental jolts are instigating change in how we see our place in the world as leaders. 
Join Stew Friedman, award-winning Wharton professor and organizational psychologist, as he draws on decades of research and practical experience as an executive and consultant to help us understand what it takes to find harmony across all aspects of our lives and why it's essential for us to commit to doing so now.  
This session and the series is designed for C-Suite, executive, and senior industry leaders and innovators from across fields, sectors and roles - including strategy and innovation, talent, technology, information and data, human resources, business, health, and education.
You will receive a link to join Zoom via email 24-48 hours prior to the session.