Event Information
Location
Califia Farms HQ
1321 Palmetto Street
Los Angeles, CA 90013
Description
Today's consumer is increasingly savvy. Meanwhile, sustainability isn't just about feeling good, it's about reducing waste and cost. But how? Join special guests Eli Steltenpohl of Califia Farms, Iris Alonzo of Everybody (and former chief creative officer for American Apparel), and other guests for an "un-panel" discussion share best practices after a brief talk by sustainability expert Carolyn Casavan.
Whether you are a purpose-driven brand or just a manufacturer that wants to grow customer loyalty and profits, we hope you'll jump in and share your ideas and learn from each other. We'll talk about the key elements of being an ethical and sustainable manufacturer, how to implement these practices in your own factory or supply chain, and how to communicate your efforts to your customers so they can become better informed consumers.
6:30 - Check-in and refreshments

7:00 - Talk and Q&A

7:25 - "Un-Panel" discussion

7:50 - Networking

8:30 - Adjourn
Early bird tickets $10 off until April 9, 2017.
Never miss an event - sign up here!

No Refunds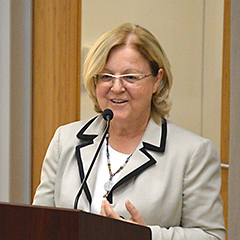 About Carolyn Casavan, P.E.
Carolyn Casavan is the Principal Engineer of Casavan Consulting. She has over 30 years of experience in providing environmental and sustainability consulting services to businesses and government agencies. She also founded and managed a well-respected environmental engineering and consulting firm in California for over 20 years. Carolyn is unique in that she is able to combine a high level of business understanding with strong technical skills. This gives her the ability to provide well thought out solutions that meet the objectives of regulatory agencies as well as the needs of business.
Her areas of technical expertise include sustainability, energy efficiency, water conservation, air quality management, greenhouse gas emissions, environmental management, and waste minimization. She is a registered Professional Chemical Engineer in California and a former Air Resources Board Accredited Lead Verifier and Transactions Specialist.

Date and time
Location
Califia Farms HQ
1321 Palmetto Street
Los Angeles, CA 90013