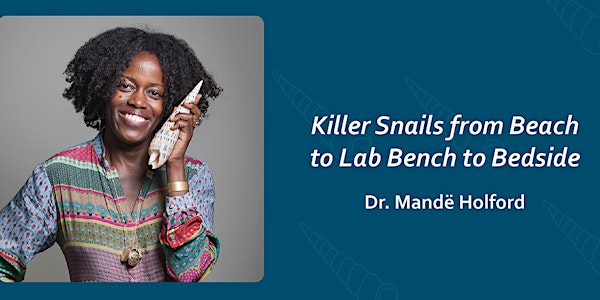 Public Forum - Killer Snails from Beach to Lab Bench to Bedside
Dr. Holford is Assoc Prof in Chemistry at CUNY Hunter College, with appointments at the Amer Museum of Natural History & Weill Cornell Med
About this event
Fish-hunting snails – yes, you read that correctly – harpoon their prey with barbs containing complex mixtures of peptide venoms. Venoms—molecules that evolved as toxins—have the power to transform lives. Marine chemical biologist Dr. Mandë Holford studies snail venom and its ability to disable prey by interfering with cell signaling. These peptides can provide insights into cellular physiology, informing efforts to develop new medical therapeutics, new agricultural pesticides with gentler environmental impacts, and myriad other innovations yet to be discovered. The lecture introduces a mollusk to medicine version of bench to bedside projects highlighting related science diplomacy issues and keep you up at night.
Dr. Holford has received several awards including being named a 2020 Sustainability Pioneer and 2015 New Champion Young Scientist by the World Economic Forum, a California Academy of Sciences fellow, the prestigious Camille Dreyfus Teacher-Scholar Award, an NSF CAREER Award, and honored as a Breakthrough Women in Science by the Howard Hughes Medical Institute (HHMI) and NPR's Science Friday.
She is also the cofounder of KillerSnails.com, an award winning EdTech company that uses tabletop, digital, and XR games about extreme creatures in nature, like snails that eat fish, as a conduit to advance scientific learning in K-12 classrooms.