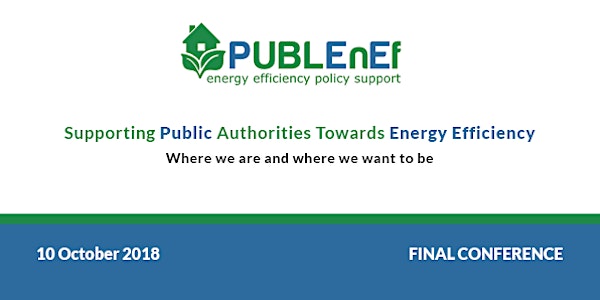 Public Authorities Implementing Energy Efficiency Policies
Date and time
Wednesday, October 10, 2018 · 9am - 4pm CEST
Location
Palais des Académies Rue Ducale 1 1000 Brussels Belgium
Description
A new Energy Efficiency Directive has been agreed upon and Europeans now have their new target: 32,5% for 2030. Public authorities through their energy efficiency strategies will be the main drivers for implementing the necessary measures and monitoring their impact towards this new target.
The PUBLENEF H2020 project has been focusing precisely on mobilising public authorities at local, regional and national level and connecting them. Based on needs assessments and good practices analysis, the partners developed policy roadmaps in 12 cities and regions across Europe to implement energy efficiency pathways towards sustainability.
In the frame of the European Week of Regions and Cities, this event will explore the capacity of local and regional authorities to lead the transition to an energy efficient society. EU level representatives will present the new policy framework for energy efficiency and the latest financing opportunities. Successful approaches will be discussed and effective tools will be shared. You'll have the chance to exchange with fellow experts on the key dimensions of energy efficiency policies and together explore the latest trends and solutions.
09:00 Registrations
09:30 FROM EUROPEAN UNION TARGETS TO EFFECTIVE POLICIES – THE ROAD SO FAR AND THE CHALLENGES AHEAD
Vlasis Oikonomou, Joint Implementation Network, Coordinator of PUBLENEF

Radoš Horacek, European Commission, DG Energy, Energy Efficiency Unit

Miroslav Poche, European Parliament, Rapporteur on the Energy Efficiency Directive

Vincent Berrutto, Executive Agency for Small and Medium sized Enterprises

Christiane Egger, OÖ Energiesparverband, Upper Austria

Marc Schlitz, City of Liège, Strategic Department
11:00 Coffee Break
11:15 Panel – Stakeholder discussion on the key challenges ahead, opportunities and the support needed to achieve our energy efficiency targets
Moderator: Vlasis Oikonomou, Joint Implementation Network, Coordinator of PUBLENEF
Paula Gallagher, Tipperary Energy Agency

Sander Happaerts, European Commission, DG REGIO, Smart and Sustainable Growth

Claire Roumet, Executive Director of Energy Cities

Francisco Puente, ESCAN
12:15 Networking Lunch
13:30 ENERGY EFFICIENCY PROJECTS AND PROGRAMMES FROM THE LOCAL ANDREGIONAL PERSPECTIVE
Key results and lessons learned from the PUBLENEF project by Vlasis Oikonomou
Panel 1 – Cities and Regions investing in their energy efficiency action plans
Pietro Falconi, Italian National Agency for New Technologies, Energy and Sustainable Economic Development-ENEA

Mia Dragovic, Institute for European Energy and Climate Policy

Reinhard Six, European Investment Bank
Panel 2 – Creating the right ecosystem to roll-out energy efficiency schemes
Daan Creupelandt, European Federation of Renewable Energy Cooperatives- REScoop

Marie-Laure Falque-Masset, Institut d'aménagement et d'urbanisme de la région Îlede-France,

Département énergie et climat ARENE

Piotr Gutowski, Polish National Energy Conservation Agency-KAPE

Annick Schwaiger, Bruxelles Environnement
16:00 Conclusions
Download the Conference Agenda here.
About the organizer
The PUBLENEF H2020 project assists European Union Member States in implementing effective sustainable energy policies (with the focus on energy efficiency) and empower them to make use of the best practices and policy processes implemented in other Member States at the national, regional and local level.