Psychedelic Education and Continuing Care Program Launch Event

Thursday, November 12, 2015 from 6:30 PM to 9:00 PM (EST)
Event Details
Psychedelics are experiencing a resurgence in medicine. Current evidence supports their capacity to enhance psychotherapy and it is projected that MDMA ("ecstasy") and psilocybin (found in magic mushrooms) will be prescription medicines by 2022.   
The Psychedelic Education and Continuing Care Program aims to meet the needs of clients, the community, and mental health professionals. The program provides a setting where clients may speak about their experiences and gain psychotherapeutic support. Clinicians can also turn to this program to learn how to best work with patients who have a history of psychedelic use, to understand what are the potential benefits and harms associated with these substances, and how to provide optimal client care.
Join us for an evening of discussions about MDMA, psilocybin, and ayahuasca. Patient interviews will be screened and a Q&A panel will follow. Come learn about our programming and services.

About the Presenters:  Katherine MacLean, Ph.D. has studied the effects of psilocybin and other psychedelics at Johns Hopkins University. Ingmar Gorman, M.A. studies MDMA-assisted psychotherapy for PTSD with the Multidisciplinary Association for Psychedelic Studies. Andrew Tatarsky, Ph.D., is a leader in the field of harm reduction psychotherapy and director of The Center for Optimal Living, an outpatient treatment and training center in NYC. Julie Holland, MD is an established author in the field and a medical monitor on several MDMA studies. Stefanie Jones is nightlife community engagement manager at the Drug Policy Alliance.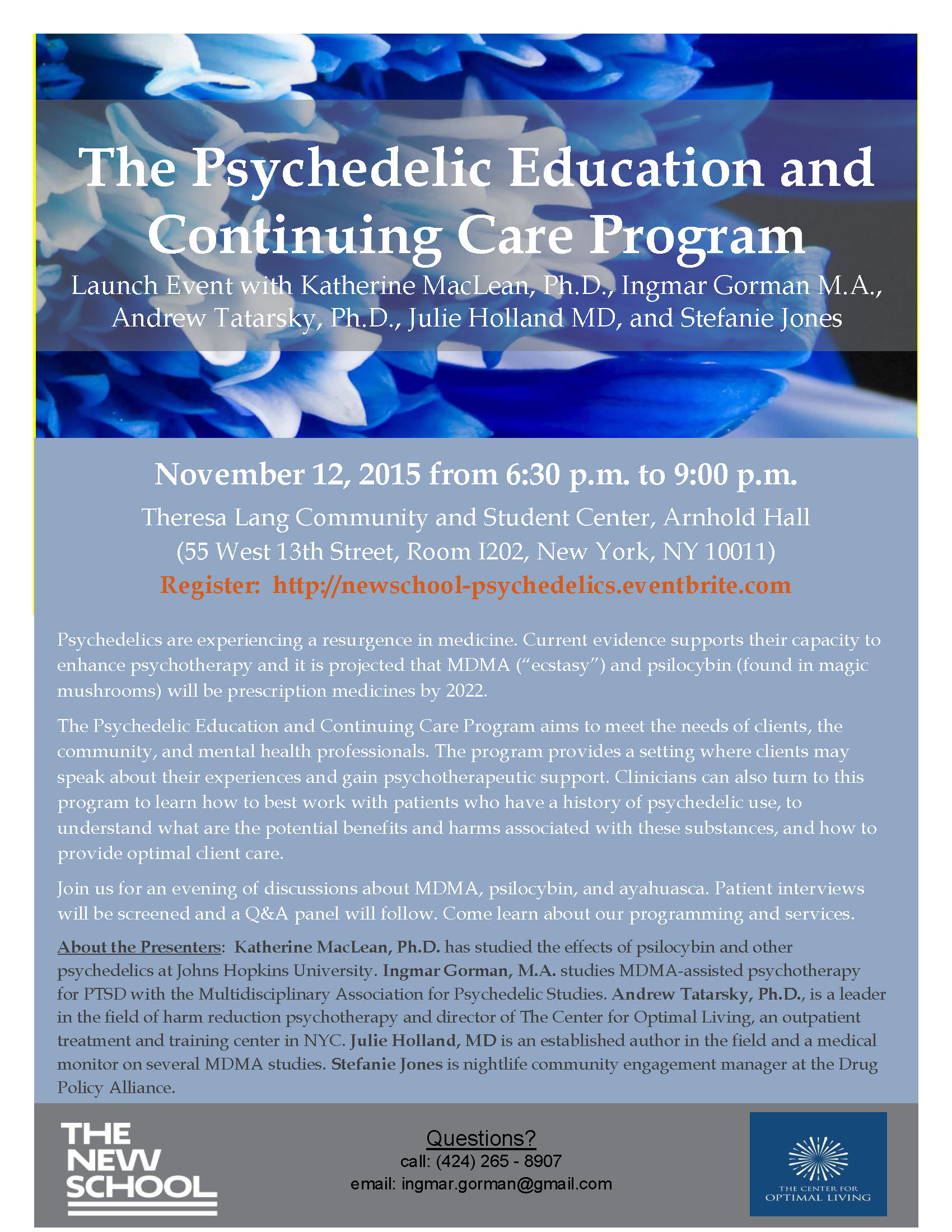 When & Where

The New School- Teresa Lang Auditorium
55 West 13th Street
Room 202
New York, NY 10011


Thursday, November 12, 2015 from 6:30 PM to 9:00 PM (EST)
Add to my calendar
Organizer
 The Center for Optimal Living provides innovative, personalized treatment, based on Integrative Harm Reduction Psychotherapy, for individuals and families with substance use issues, other risky or addictive behaviors, and a wide range of mental health issues.  Recognizing the complexity and multiple meanings of these issues, we promote healing and positive change through the principles of compassion, collaboration and empowerment.
The Center for Optimal Living offers a variety of trainings and workshops on Integrative Harm Reduction Psychotherapy (IHRP) and other complementary techniques. We offer training in the United States and internationally, for individuals, groups and organizations.  Our training sessions are collaborative, making use of group discussion, interactive skill-building components. To find out more about the content, availability and cost of our training sessions, please contact us at info@cfol.org or (+1) 212.213.8905 x2.