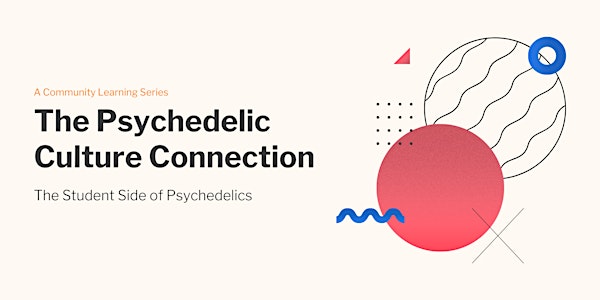 Psychedelic Culture Connection: The Student Side of Psychedelics
Join us for our first community learning series focused on the needs students have as psychedelics become part of the medical mainstream.
When and where
Location
The Rose Innovation Hub Event Commons at Mitchell Hall at Queen's University 69 Union Street Kingston, ON K7L 2N9 Canada
Refund Policy
Contact the organizer to request a refund.
Eventbrite's fee is nonrefundable.
About this event
The Kingston Psychedelic Society, in collaboration with, The Kingston Economic Development Corporation, Neuma Centre for Social Wellness, and Queen's Psychedelic Research Association are inviting you to an evening of insights, collaboration, and education exchange centred around the unique potential psychedelics have on transforming our culture.
Join a community of curious Kingstonians, top academic researchers, leading facilitators, like-minded students and enthusiastic psychedelic advocates as we come together for an evening of networking and information exchange.
Meet others across the city involved In advancing psychedelic medicine access
Learn about the latest research in psychedelic therapy for mental health as it applies to students
Understand the needs students have in maintaining health and wellness during this post-pandemic world.
Share personal stories and create new friendships with like-minded peers.
If you've heard about the exciting potential psychedelic medicine can have on our health and wellbeing and you're curious about what is next for the city of Kingston, join us for a special evening to learn more, connect and have fun!
Event is free or by donation, in support of the Kingston Psychedelic Society to help make this event possible.
The Event Commons is located in the heart of Queen's main campus, 10 minutes from downtown Kingston in Mitchell Hall.
Hosts:
Cory Firth:
Cory is a human-impact community builder, communications entrepreneur and plant medicine advocate who has spent the last 5 years building communities in the mental health and wellness space including his work as the former Executive Director of the Canadian Psychedelic Association. After a 20 year battle with depression, Cory has committed his career to a vision of the future where the stigmatization of mental illness is replaced with compassion, transformation and community connection; a world where we work together to reunite with our innate abilities to heal, overcome and actualize our full potential. Cory is passionate about creating an open, empowered and collaborative community of psychedelic wellness practitioners in Kingston to advance the mental health of our community.
Rich Tyo:
Rich Tyo is a registered psychotherapist, mental health advocate, musician, arts educator, psychedelic practitioner, and founder of the Kingston Psychedelic Society. For the last 10 years, Rich has supported individuals in their preparation and integration of transpersonal/ psychedelic experiences with a transpersonal, somatic, and harm reduction lens. He also leads psychedelic cannabis ceremonies for groups and individuals and has spoken internationally on topics such as psychedelic harm reduction, micro-dose research, spirituality, and shadow work. Rich is passionate about community building and holistic mental health education in order to support people in finding their skills to navigate the deep healing within our collective and individuals psyches that is essential during these uncertain times.
Shari Hughson:
Shari Hughson is an entrepreneur, social innovator, and extreme adventurer. She started her first business in her 20s and won CIBC Entrepreneur of the Year before the age of 30. Shari was awarded one of the 50 Most Influential Female Business and Entrepreneur Leaders of the Year by SME Canada in 2021 and given a national honour from the First Nations Health Authority for a project that impacted the mental health of a remote community in 2013. She has owned 6 health companies and 8 e-commerce sites, and today is a faculty member in Innovation and Entrepreneurship at Queen's University. She is a travel and wilderness fanatic and has pushed her limits by living off the land with only the bare survival essentials for 7 years. Shari is an engaging public speaker on topics of entrepreneurship, innovation, well-being, courageous leadership, survival mindset, and social enterprises impacting people and the planet.
Special Guests from The Queen's Psychedelic Research Association:
The Queen's Psychedelics Research Association (QPRA) is a student-lead multi-disciplinary student club spanning undergraduate and graduate degrees focused on current and future psychedelic research.
Audience-lead discussion & further knowledge expert interaction can be expected as we intend to open the event with a container of curiosity, exploration and a chance to learn from all in attendance. If you or someone you know should have a voice in this discussion, please reach out to the event organizers, or email hello@neumacentre.com.