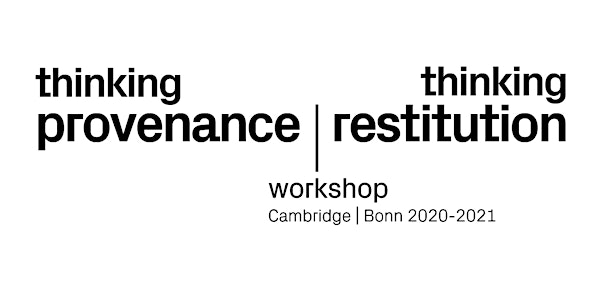 Provenance Practices in Museums | A Roundtable Discussion
Provenance Practices in Museums | A Roundtable Discussion
About this event
Join us for the final session 'Provenance Practices in Museums | A Roundtable Discussion' in the 'Thinking Provenance Thinking Restitution' workshop series 2020-2021
This session includes brief talks, followed by a roundtable discussion, by museum professionals and academics who focus on provenance research in museums in the UK, Germany, France and Austria. Speakers will discuss specific provenance research projects – ranging from restitution of silver objects at the Bavarian National Museum to Nazi and colonial-era provenance at the Victoria & Albert Museum —that have posed interpretive and museological challenges. They will also present novel prospects for considering the relationship between provenance and restitution practices.
Speakers include: Dr Jacques Schuhmacher (Victoria & Albert Museum, London), Andrea Berger (Technisches Museum Wien) and Dr Matthias Weniger (Bayerisches Nationalmuseum Munich). The panel will be chaired by Dr Lucy Wasensteiner (Liebermann Villa Berlin).
With opening remarks by Prof Christoph Zuschlag (Universität Bonn), Dr Mary-Ann Middelkoop (University of Cambridge) and Dr Lucy Wasensteiner.
The 'Thinking Provenance Thinking Restitution' workshop series 2020-2021 is made possible by funding provided by the DAAD Cambridge Research Hub for German Studies.
The series is convened by Dr Mary-Ann Middelkoop and Dr Lucy Wasensteiner.