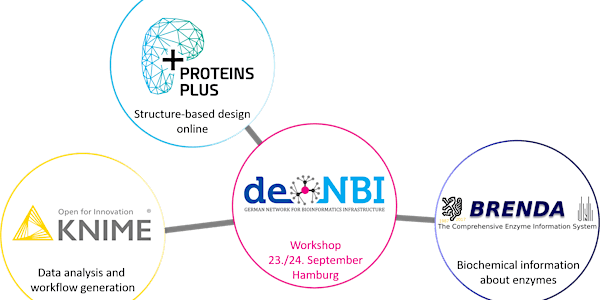 Protein Structure Fundamentals: Searching - Analyz
Location
Universität Hamburg, ZBH - Center for Bioinformatics Hamburg
Bundesstraße 43
20146 Hamburg
Germany
Interested in learning the fundamentals of structural bioinformatics? From protein structures to drug design: Join our de.NBI workshop!
About this event
Content: In this workshop, you will get to know a combination of tools and webservices for searching and analyzing protein structure data. The focus will be on protein function and related interactions to small molecules. We will work with two web- and two software platforms: BRENDA, the database for enzyme structures will be used to gather information about enzyme structures. The ProteinsPlus web service contains a diverse range of software solution for the analysis of protein structures and its application in molecular modeling approaches. NAOMI ChemBio Suite contains desktop software for cheminformatics and advanced modeling. KNIME offers diverse options for the analysis of biological data and the generation of analytical workflows.
Goals: This course is designed for life and computer scientists with interest in protein structures, but only very basic experience. Topics include: Finding and selecting protein structure data, evaluating the quality of experimental data, preprocessing structure data for modeling, first modeling steps like the analysis of binding site properties and conformational flexibility. Furthermore, we will introduce basic Cheminformatics tools.
Usage of ProteinsPlus, BRENDA, NAOMI ChemBio Suite, and KNIME; all software introduced is available for free for academic use. This workshop is part of de.NBI.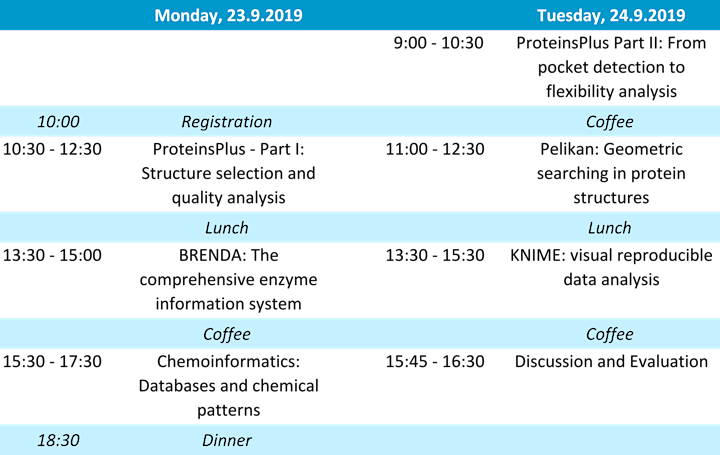 Prerequisites: General knowledge of proteins and their role in life sciences
As more details become available we will update this page.
See also: RDKit UGM which is from 25.-27. September in Hamburg.