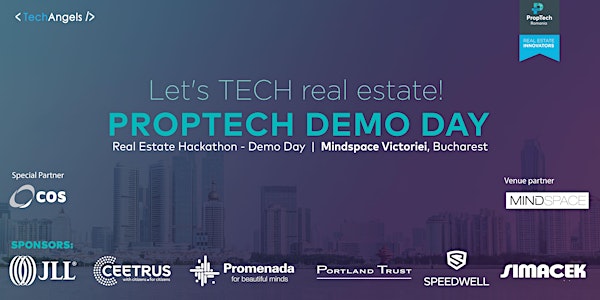 Proptech Demo Day
About the event, Organizers, Tickets, Sponsors, VC's, Jury Members, Event Agenda, Community Partners
When and where
Location
Mindspace Victoriei 15-17 Bulevardul Ion Mihalache 011171 București Romania
Refund Policy
Contact the organizer to request a refund.
About this event
CONTENT
PropTech Romania is proud to present the first Romanian PropTech Demo Day, showcasing the 7 winners of the Real Estate Hackathon in April and 3 wild cards (all promissing and investment ready startups). The event will be hosted by the amazing location of Mindspace, in Victorie, in the presence of several real estate corporations and some of the most active investors for early stage startups in Romania (angel investors and VC's).
Organizers
Officially launched in March 2019, PropTech Romania is a platform dedicated to entrepreneurs, investors and developers who are eager to find tech solutions for the real estate industry and to generate innovative business models by an in-depth understanding of the real estate market.
The first and strongest Business Angel Investors Network in Romania, TechAngels is actively contributing to the development of tech businesses from Romania and South-Eastern Europe through investment, expertise and connections since 2013. We facilitate investments in tech projects, focusing especially (but not exclusively) on web, mobile, embedded software and hardware. Over the years, our >25 members have been involved, through investment and mentorship, in a number of successful startups.
About the event
The solutions presented at the PropTech Demo Day are the result of months, in some cases years of work from the startup teams, seeking access to capital, start-up and incubator resources, or clients & partners, pitching to a crowd of leading PropTech investors, entrepreneurs and forward-thinking corporate real estate executives. Winners of the Real Estate Hackathon and some willdcards will pitch at the demo day.
Event Agenda
Thursday, 20th of June 2019 – Mindspace Victoriei, Blv. Ion Mihalache no. 15-17, Bucharest
18.00: Doors opening
18.00 – 18.30: Registration, welcome and networking
18.30 – 18.40: PropTech Romania official opening
18.40 – 18.45: Mindspace Victoriei intro
18.45 – 18.50: Keynote Tech Angels
18.50 – 18.55: Keynote VIP Guest
19.00 – 20.30: Pitching session
20.30 – 21.00: Networking session – powered by Unison Catering
Event Agenda
Beam Innovation (wildcard)
Inflection Point (wildcard)
YeParking (wildcard)
GoTiny Life (community winner)
Parkly (office building winner)
Optimrent (brokerage winner)
Toby (facility management winner)
FM Center (3rd place)
Sigtree (winner residential & 2nd place)
Bright Spaces (winner retail & 1st place)
Tickets
Participatinon at the PropTech DemoDay is Invitation Only.
If you believe you must be joining us and be part of the event, please send us an email to hello@proptech.ro, stating your business and your reasons for participating.
Due to the limited space, we only have available 10 Community Supporter tickets with the value of 100 €. If you decide to support us in making the event even better, you can purchase this type of ticket here, through eventbrite.
Sponsors
JLL Romania – is a financial and professional services firm that specializes in commercial real estate services and investment management.
Ceetrus – is a global real estate player, known until June 2018 under the name of Immochan. Ceetrus now builds places for people to live and meet, blending shops, homes, offices and urban infrastructure
Nepi Rockcastle – is the leading property investment and development group in CEE, with an exceptional property portfolio with dominant position in Romania, Poland and Slovakia and strong presence in Croatia, Bulgaria, Hungary, Czech Republic, Serbia and Lithuania.
Portland Trust – was established in 1997 to develop high quality, institutional, commercial real estate assets throughout Central Europe.
Simacek – is a Europe-wide provider of facility management infrastructure and services, specializing in cleaning, pest control, security, catering, hygiene, staffing, technical services and gardening.
Speedwell – aims to develop real estate with Passion. Such Passion is reflected in the strong personal involvement of not only the shareholders but of all Speedwell team members.
Imobiliare.ro – the leading property website in Romania and one of the most successful online projects in the country, with over 1.4 million monthly unique visitors and a network of over 4,000 real estate brokers.
KONE – is an international engineering and service company, building and serviceing autowalks, automatic doors and gates, escalators and elevators.
COS – Brings new life to the workspace with complete custom tailored interior design solutions.
VC's:
Innogy Venture, Odysseus Ventures, Early Games Venture, Growceanu, RocaX, Sparking Capital
Jury Members:
Dragos Nicolaescu – Tech Angels
Malin Stefanescu – Tech Angels
Alexandru Bogdan – RocaX
Cristian Negrutiu – Sparking Capital
Adrian Erimescu – Growceanu & Imobiliare.ro
Cristian Munteanu – Early Games Ventures
Calin Fusu – Neogen Group