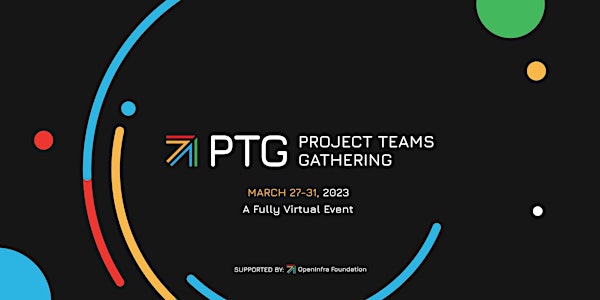 Project Teams Gathering- March 2023
The first Project Teams Gathering of 2023 will be held March 27-31 and will be a virtual event.
About this event
4 days 10 hours

Mobile eTicket
The first Project Teams Gathering of 2023 will be held virtually March 27-31.
The Project Teams Gathering (PTG) is an event organized by the OpenInfra Foundation. It provides meeting facilities allowing the various technical community groups working with OpenInfra (user workgroups, development teams, operators, SIGs) to meet in-person, exchange and get work done in a productive setting. It lets those various groups discuss their priorities for the upcoming cycle, assign work items, iterate quickly on solutions for complex problems, and make fast progress on critical issues. The co-location of those various meetings, combined with the dynamic scheduling of the event, make it easy to get specific people in the same room to discuss a specific topic, or participate in multiple team meetings. Evenings allow for relationship building and problem sharing.
CODE OF CONDUCT
The OpenInfra Foundation is dedicated to providing an inclusive and safe PTG experience for everyone, regardless of gender, sexual orientation, disability, physical appearance, body size, race, nationality or religion. We do not tolerate harassment of PTG participants in any form. By registering for this event, we expect you to have read and agree to the OpenInfra Community Code of Conduct and Event Code of Conduct.
PRIVACY
Personal information we gather for registration and at the event is handled in accordance with our Privacy Policy. We will share pictures and videos we take at the event with the OpenInfra community, such as on www.openinfra.dev.  Other personal data is not published and, unless you consent to an additional use, is used for internal purposes only.  We may share your personal data with third parties who provide services to us, but we share only the information that is reasonably necessary for the third party to provide the service and we do not authorize any further use or disclosure of your personal data.
If you choose to register for an event hosted by a third party, scan your event identification badge at a booth hosted by a third party sponsor, or otherwise submit information to a third party, such third party may collect your personal information.  Any information collected by a third party is subject to that entity's privacy policy.  You are not required to attend outside events, scan your event identification badge, or otherwise provide your information to a third party to participate in the PTG.