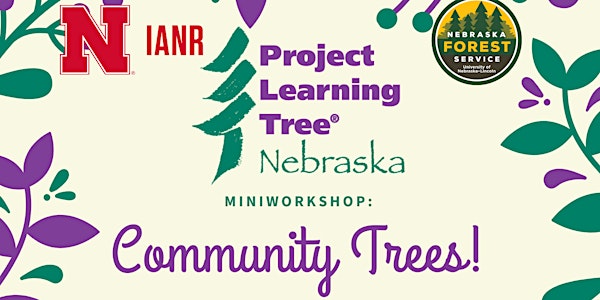 Project Learning Tree MiniWorkshop: Community Trees
Join us as we learn how to engage learners in environmental education utilizing a brand-new set of activities from Project Learning Tree!
Refund Policy
Contact the organizer to request a refund.
Eventbrite's fee is nonrefundable.
About this event
Project Learning Tree is excited to launch a new series of theme-based activity collections that focus on specific grade levels and topics. Discover Your Urban Forest is the first collection of activities to be released as part of this new themed series for educators. It features three brand new PLT activities for educators of students in grades 6-8 that invite learners to explore their urban environment and investigate environmental issues that affect their urban community.
We'll focus our time in this workshop on the "Environmental Justice for All" lesson which explores that while everyone has an equal right to a healthy environment, not everyone has access to one. In this activity, students propose actions to resolve various scenarios and then research issues related to environmental justice in their own state.
Many people think that "the environment" refers only to areas that are separate from humans. However, the environment is the sum of all living and nonliving components that affect people and other organisms. It includes both natural habitats and dense cityscapes. The environment influences people, and people both depend on and influence the environment.
Professional Development Workshop Details:
November 11th, 2020; 6:30-8:00 PM via Zoom
Each participant will be given a certificate for 1.5 in-service hours, a copy of the curricula, and the background knowledge needed to implement these hands-on, heads-on activities in your classroom or program right away
Must be registered by November 10th
Cost is $5 per person
Questions?
Contact us:
Hanna Pinneo - PLT and WET State Coordinator, Conservation Education Coordinator, Nebraska Forest Service Hpinneo2@unl.edu, 402-472-2945
Jack Hilgert - PLT and WET State Co-Coordinator, Conservation Education Assistant, Nebraska Forest Service, jack.hilgert@unl.edu, 402-472-2945
The activities in Discover Your Urban Forest encourage learners to investigate environmental issues that affect their urban community. By inspiring youth to learn about the place they live, these activities help students better understand how the world works and what sustains them. Discover Your Urban Forest features three new PLT activities for educators of students in grades 6-8. Designed to be flexible, the activities can be used as individual, stand-alone lessons, or all together as a cohesive unit of instruction using a storyline technique.
Find out more information about the activities at: https://www.plt.org/news/activity-collections-themed-series/?utm_source=newsletter&utm_medium=email&utm_campaign=september_branch_2020&utm_content=title