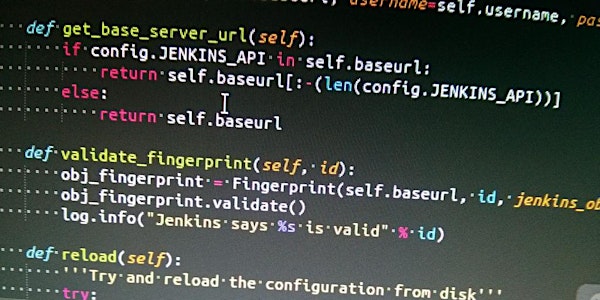 Programming with Python 3
When and where
Location
Free Geek 1731 Southeast 10th Avenue Classroom Portland, OR 97214
Refund Policy
Contact the organizer to request a refund.
Description
Have you ever thought programming was interesting, but don't know where to start? Do you want to unlock the true potential of computers? Join us! This class is part 3 of an introduction to programming concepts with Python, an easy-to-learn programming language.
In this class you will learn the basics of Object Oriented Programming with Python. Encapsulation, Inheritance, Polymorphism and other scary sounding terms will be demystified!
Recommended Prerequisites: Programming with Python 1 and Programming with Python 2
Class Category: Programming

---
Technology Used
This class uses Python 3.6, Spyder for an IDE, and the Anaconda library. Free Geek provides laptops with the necessary software pre-installed. Bring your own laptop if you would like to learn how to set it up for programming at the end of class.
Bag Check Policy
We do not allow bags or purses at our facility. Please leave them at home or be prepared to check them at the front desk.
If you'd like to bring your laptop or tablet to class, please notify the front desk team as you check in. They will provide you with an Equipment Pass. Please keep this pass with your device while at Free Geek.
Closed Toe Shoe Policy
Free Geek is a warehouse environment. For your safety, please wear closed toed shoes whenever you come to Free Geek -- even if just taking a class.
Accessibility
To request an accomodation, please email us at info@freegeek.org or call (503) 232-9350 at least two days in advance of the class. We are happy to work together!
Free Geek is partially accessible. Free Geek's classroom is on the first floor. Doors meet ADA width standards but are not automatic. There are four all-gender single-stall bathrooms at Free Geek.
Age Policy
Please note that people under 16 years old must be accompanied by a parent or guardian at all times they are in Free Geek. Youth and their adult must both register for class.
Food and Drink Policy
Food and open beverage containers are not allowed in the classroom. Beverages with fully closable lids are allowed.
Transportation and Parking
Free Geek is accessible via the #2, #6, #10, #14, and #70 TriMet bus lines. Bike parking is available in front of our building.
Free street parking is available throughout our neighborhood. We do have a limited number of parking passes on loan if you need to park in a 2-hour Zone G parking spot. You can ask for these when you arrive. If none are available, most classes are 2 hours. Longer classes have a break in the middle.
Safer Space Policy
We strive to make Free Geek a welcoming, safe and comfortable space for everyone (volunteers, staff, donors, visitors) and appreciate your best efforts to treat all others with respect and understanding. Thank you for doing your part to make this a safer learning space for everyone regardless of their background, experience, and abilities. If you see anyone engaging in any of the below activities, please let a staff member know so we can follow up appropriately. The following are not acceptable behaviors at Free Geek: Attitudes, jokes, and language that are discriminatory or demeaning on the basis of race, class, gender identity, sex, age, spoken language, nationality, culture, physical appearance, sexual orientation, or ability/disability. Acts or threats of violence, including intimidation, harassment, and/or coercion. Sexual harassment. Theft.
Closures and Inclement Weather Policy
Free Geek follows Portland State University's inclement weather policy. Additionally, any Free Geek closures are posted on our website, Facebook, and Twitter.
Learn with Free Geek!
Find all of Free Geek's classes at freegeek.org/education.
For More Information
Please contact the Free Geek Front Desk at info@freegeek.org or (503) 232-9350. We are open Tuesdays through Saturdays, 10 a.m. to 6 p.m.
Sign up for our newsletter to receive the class schedule in your inbox
every week!