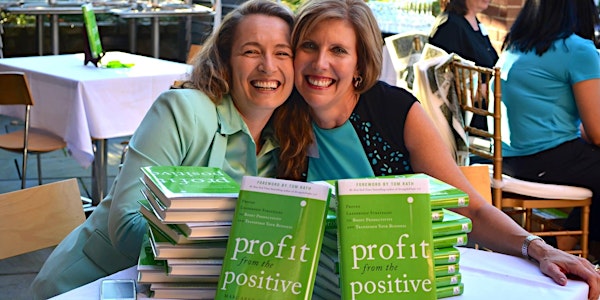 Profit from the Positive Certificate Program (10 weeks starting April 18, 2...
Sales Have Ended
Ticket sales have ended
Registration has closed for the 4th cohort of our Profit from the Positive Certificate Program. Please email us at book@ProfitFromThePositive.com to get on our Wait List for the next offering in 2017. Warm regards, Margaret H. Greenberg & Senia Maymin, Ph.D.
Description
PROFIT FROM THE POSITIVE CERTIFICATE PROGRAM rated among the

TOP 10 POSITIVE PSYCHOLOGY COURSES YOU CAN TAKE ONLINE
by Live Happy Magazine and approved for 10+ continuing education hours by the International Coach Federation.

RESERVE YOUR SPOT IN OUR NEXT
COHORT BEGINNING April 18, 2017!
Don't have the time or budget to design evidence-based and interactive content for leaders and teams? Looking to build your professional toolkit early in 2017 to reap the benefits? Then get trained to deliver all 31 engagement and productivity tools in the bestselling book, Profit from the Positive (now available in Chinese, Japanese, and Korean), as a Certified Practitioner.
"The Profit for Positive Certificate program was an excellent experience in learning new positive psychology applications and exercises to apply both at the workplace and in my personal life. I highly recommend this program if you are interested in adding new tools to your tool box in employee engagement, leadership development and coaching." – Ashley E. Anders, Leadership Consultant and Executive Coach, Anders Consulting (Cohort #1)
BECOME A
PROFIT FROM THE POSITIVE
CERTIFIED PRACTITIONER — NEXT COHORT BEGINS April 18, 2017!
We are excited to launch the fourth cohort of our Profit from the Positive Certificate Program beginning April 18, 2017 which will be delivered live over the web in ten 90-minute sessions.
Since publishing our book we have been introducing leaders, managers, and employees to how they can apply the science of positive psychology to themselves, their teams, and their organizations both in the U.S. and abroad. Since there are only two of us and we haven't figured out how to be in two places at once, we decided to build a cadre of talented professionals who are well-equipped to train others.
Program Benefits:
Be on the forefront of bringing positive psychology to the workplace

Reduce workshop design time and expland your offerings

Be coached directly by the author(s)

Earn continuing education credits

Learn from anywhere in the world

After the program, join our free Certified Practitioner Quarterly Learning Community
To learn more:
We look forward to having you be a member of Cohort #4!
Margaret H. Greenberg, MAPP & Senia Maymin, MAPP, Ph.D.
Co-authors of Profit from the Positive: Proven Leadership Strategies to Boost Productivity and Transform Your Business (McGraw-Hill)


FREQUENTLY ASKED QUESTIONS (FAQs)
1. Who is this program really geared to? This certificate program is for you IF:
You are an HR or Learning & Development professional looking for leadership and employee engagement content, that is backed-up by science, and designed in an interactive way.

You are looking to scale your development programs by delivering content in-house that has already been designed and tested with employees and managers alike.

You are a coach or consultant searching for relevant tools to add to your professional toolkit and earn continuing education credits at the same time.

You are a manager who is looking to develop your own leadership skills and then train others on your team or in your organization.
2. How is the program delivered? The program is led by Margaret H. Greenberg, the co-author of Profit from the Positive. Certified Practitioners from the previous three cohorts may also assist in the program. The program is conveniently delivered online by live webinar, so there's no need for expensive travel or time out of the office. Classes meet once a week, for 90 minutes, over a ten-week period. That's a total of 15 hours of professional development. This is not a MOOC (Massive Open Online Course). Class size is small to transfer learning, build confidence, and answer all questions.
"The modules of the curricula, design thinking behind the whole program, small cohort so that learners could interact with instructor frequently, all impressed me." - Lian Sun (Cohort #2)
3. When does it start? We are running 2 cohorts in 2017: One this spring (April 18 - June 20, 2017) and one this fall (October 10 - December 12, 2017).
4. What if I cannot commit to attend all 10 weeks due to vacation, work, or other commitments? While we hope you are able to attend all 10 sessions, we recognize that you may occasionally have to miss one. We allow you to miss 2 sessions and still graduate. All sessions are recorded so if you miss one, you are expected to watch the recording and submit your homework before the next session.
5. How much homework can I expect? You'll spend about 30-minutes of application homework each week. If you haven't read Profit from the Positive yet, you will be required to read 1 chapter each week, along with recommended articles.
6. How much does it cost? The program fee is $2,995 U.S. which includes all PowerPoint slides, Worksheets, and a signed copy of Profit from the Positive. Use promo code LiveHappy2017 and save 40%.
7. When is the deadline for registering? We are accepting participants up until April 16th for the spring session, and October 5th for the fall session.
8. Do you offer an in-house Certificate Program, rather than only over the web? Yes. If you wish to train your entire Learning & Development staff, or a group of managers, we can run the program at your company location in two full days. The minimum number of participants is ten. Or we can offer a modularized, virtual training program just for your employees. Please contact us at book@ProfitFromThePositive.com to learn more.
9. Can I earn continuing education credits? Yes. The Profit from the Positive Certificate Program has been approved for 9.17 Core Competencies and 1.16 Resource Development hours by the International Coach Federation (ICF).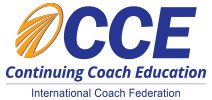 10. Why should I invest time and money into yet another certificate program? We are executive coaches and as such, we are sticklers when it comes to applying what you learn and forwarding your action. At the end of the 10-week program, you will be equipped to teach all 31 tools in our book either in a classroom setting or online. Due to the highly modularized nature of the program, you can use the content as part of your existing curriculum or offerings, or implement the program as is. Another unique feature is that you can select pieces of the content around a particular skill or topic area your client or organization is interested in cultivating. For example, we have taken our evidence-based content and developed standalone, 60-90 minute programs on:
Get More Done Without Working More Hours

Change The Way You Think About Change

Boost Your Team's Productivity by Up to 40%

Take Charge of Your Career: Know Your Strengths

What is Positive Psychology and Why Should Businesses Pay Attention
"This program, led by leaders in their field, gives you a new perspective and outlook on how to work with others and how you can influence your coworkers in a positive and productive way." - Claire Kostbar, SVP HR & Administration, iN DEMAND (Cohort #2)
11. What do I earn besides a certificate? Upon graduation you automatically become a member of our Learning Community of Profit from the Positive practitioners or "positive deviants," as we like to say – people who have the courage to capitalize on what's right and try something new that we know works. Since positive psychology is a burgeoning field, we want the learning to continue long after the 10-week program. To that end we host free, quarterly webinars to exchange best practices, answer questions, and share the latest research among our Certified Practitioners. Become a part of our growing network of internal Learning & Development professionals, external coaches, and consultants.
"You two are very good partners in this adventure. Your energy plays off each other and builds very well for students." – Carol Huffman (Cohort #1)
12. Once I'm certified and want to deliver the content, what is the licensing fee? If you are sharing the content in one-on-one discussions with your coaching clients or employees, there is no fee. If you are sharing the content in a workshop or as part of a program, there is a $49.50 licensing fee for each participant which includes use of our PowerPoint slides, Worksheets, and one hardcover or ebook version of Profit from the Positive for each attendee.
13. I already use a handful of the 31 tools in PFTP. What will I gain by participating in this certificate program? That's wonderful that you are already using some of our tools. However, there are a total of 31 tools that we have been delivering to diverse audiences for 3 years. We've also figured out how best to teach the tools, both over the web and in-person, with groups as small 3 and as large as 30,000 (yes, 30,000). By experiencing the instruction first-hand, you will be equipped to add more interactive content to your next workshop, webinar, or event. One more benefit? Our slides are pretty cool.
"This journey has been transformative and so much fun!" – Elisabeth (Libby) Fiumara (Cohort #1)