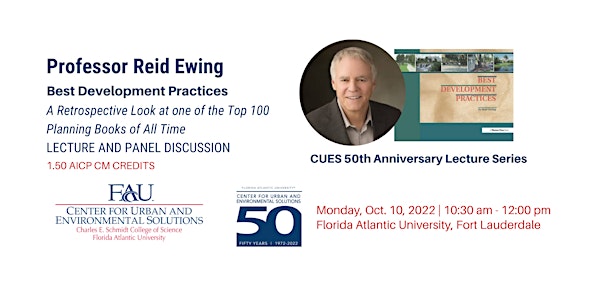 Professor Reid Ewing: Best Development Practices
One of the world's most highly cited urban planning scholars, Professor Reid Ewing reflects on his highly acclaimed book and work at CUES.
When and where
Location
Florida Atlantic University - Ft. Lauderdale Campus 111 East Las Olas Boulevard Ground Floor Fort Lauderdale, FL 33301
About this event
CUES 50th Anniversary Lecture Series
Professor Reid Ewing: Best Development Practices
A Retrospective Look at one of the Top 100 Planning Books of All Time
As CUES celebrates its 50th anniversary in 2022, we are happy to welcome Professor Reid Ewing, one of the most highly cited urban planning scholars in the world, to reflect on his time when he worked at our center in the 1990s. He authored Best Development Practices: Doing the Right Thing and Making Money at the Same Time published by the American Planning Association (APA) in 1996. This book was selected as a 100 Essential Books of Planning in 2009 when the APA celebrated the 100th anniversary of the American Planning movement. Professor Ewing will reflect on this book and his subsequent work, and the role that his time in South Florida influenced his career.
Following the lecture, enjoy a panel discussion with
Jim Murley, Chief Resilience Officer, Miami-Dade County
Susan Coughanour, FAICP
Reid Ewing, PhD
Moderated by John Renne, PhD, AICP, Professor and Director of CUES
About the Speaker/Panelists
Reid Ewing is a Distinguished Professor of City and Metropolitan Planning at the University of Utah, associate editor of the Journal of the American Planning Association, and columnist for Planning magazine. His 10+ books include Pedestrian and Transit-Oriented Design, co-published by the Urban Land Institute and American Planning Association; Growing Cooler: Evidence of Urban Development and Climate Change, published by the Urban Land Institute; and Best Development Practices, listed by the American Planning Association (APA) as one of the 100 "essential" books in planning over the past 100 years. Ewing's research focuses on the built environment at five different scales and its impacts on quality of life. He has studied the built environment at scales ranging from the individual block and pedestrian activity, to the MXD and internal capture, to the metropolitan region and mode shares.
James F. Murley is the Chief Resilience Officer for Miami-Dade County. Miami-Dade County, together with the Cities of Miami and Miami Beach, launched their Resilient 305 Strategy in May 2019. Jim previously served as Secretary of the Department of Community Affairs under Governor Lawton Chiles and was appointed Chair of the Florida Energy and Climate Commission by Governor Charlie Crist. Additionally, he served as Executive Director of 1000 Friends of Florida, spent over 10 years with Florida Atlantic University overseeing research on urban and environmental issues, and served as Executive Director of the South Florida Regional Planning Council. Jim is a founding member of the American Society for Adaptation Professionals and Resiliency Florida, a Board member of The Florida Ocean Alliance and the Southeast Coastal Ocean Observing Regional Association. He serves as Mayor Levine Cava's designee on the Miami River Commission. He is also a Fellow of the National Academy of Public Administration.
Susan Coughanour, FAICP, had a successful 36-year career at the South Florida Water Management District where she managed major projects and coordinated multiple local, regional, state, and federal agencies and stakeholders on environmental restoration and land use planning projects. Active in the APA Florida chapter since 1994, Susan has been instrumental in organizing numerous programs and mobile workshops in the Treasure Coast area including the Annual Ethics Seminar, Annual Legislative Breakfast, and Planning Officials Training Workshops. She co-founded the Palm Beach County Planning Congress in 1975, an inter-disciplinary professional organization of public and private sector planners, engineers, and related professionals, to promote good planning in Palm Beach County and provide opportunities for professional interaction.
John L. Renne, PhD, AICP, is a globally recognized expert in Transit Oriented Development (TOD), including sustainable and resilient cities, with a focus on land use and transportation planning and policy. John is experienced in real estate development and is the founder of the TOD Group and the TOD Index. Dr. Renne is a co-founder of the National Evacuation Conference. He served as Chair of the Transportation and Land Development Committee of the Transportation Research Board of the National Academies and he is the chair of the Mobility Committee of the Urban Land Institute's Southeast Florida and Caribbean District Council. He serves as a Professor in the Department of Urban and Regional Planning and Director of the Center for Urban and Environmental Solutions at Florida Atlantic University.