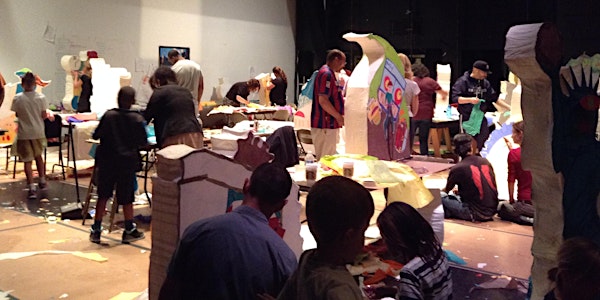 Processional Arts Workshop: an artistic hands-on collaboration
When and where
Location
Vizcaya Museum & Gardens 3251 South Miami Avenue Miami, FL 33129
Description
Vizcaya Museum and Gardens is proud to collaborate with Processional Arts Workshop (PAW) for an exciting program inspired by the works of Robert Winthrop Chanler, the elusive American muralist who created Vizcaya's famed Pool grotto ceiling mural and Vizcayan Bay screen.
PAW artistic directors Alex Kahn and Sophia Michahelles lead a weeklong series of workshops in the Vizcaya Village buildings, culminating in Whirl, an immersive performance meandering throughout the main house and gardens. Participants will collaborate to build large-scale illuminated structures evoking the eccentric flora, fauna, and fantasy in Chanler's work. The workshops sample different tasks or techniques on any given day, so participants may sign up for as few or as many sessions as they please. On July 30 at twilight volunteers can bring their creations to life as a wandering Chanler-esque bestiary of tableaux vivants, luring visitors into Vizcaya's far-flung corners and hidden grottos.
Processional Arts Workshop (PAW) creates site-specific works and Carnivalesque performances worldwide, always involving local volunteers in the creation of pageant puppetry, mobile architecture, and illuminated structures. They have created community-based performances for NY's High Line, the Brooklyn Botanic Garden, Columbia University's Miller Theatre, Socrates Sculpture Park, Katonah Museum of Art, and as master puppeteers for New York's Village Halloween Parade. Globally they have collaborated with communities in Kiev, Istanbul, rural Italy, and Trinidad. Their work has been recognized with a Fulbright Scholarship; grants from the Mid-Atlantic Arts Foundation and CEC Artslink; and a Witt Fellowship at University of Michigan. Learn more at www.processionalarts.org.
REGISTRATION
Workshops will be held twice per day on
Saturday July 23 and Sunday July 24 at 12-3p.m. and 3-6p.m.

Monday July 25 through Thursday July 28 at 2-5 p.m. and 5-8 p.m.
Workshops are free to the public and open to both children and adults. The workshops are geared towards adults and teens, though we welcome children 8 and up who are working with an adult

Each workshop has a maximum capacity of 25 participants, so registration is mandatory. To register, please fill out this online form.
Participation in the July 30 processional is not a requirement for workshop registration.
FAQs
What should I bring?
Yourself and a willingness to be hands-on! The artists have a clear vision of the final outcomes but part of the fun is about bringing the community together to execute their vision, so come ready to be a part of the process, be it working with glue guns and drills or with detail work on finishing touches. Oh. And wear something that can get messy!
Can I drop off my child?
No. This workshop is geared towards adults and teens, though we welcome children 8 and up, and is designed to adults and children to be working together in a creative space. You should plan to take advantage of this different kind of collaborative experience and build the illuminated objects with your child under the guidance of the PAW artists!

What can I expect to do during the workshops?
Each workshop is different and what you work on depends on which part of the process you join. Tasks will vary from from building giant lantern armatures, to surfacing them with paper-maché, to applying the final color details. One thing is certain - you can expect to be fully engaged alongside the artists and other members of the community as we work together to create one-of-a-kind pieces inspired and informed by Vizcaya and R. W. Chanler!

Can I only do one of the workshops?
You can do 1 workshop, 2 workshops or all 12 workshops - we just require registration. Since each participant will work closely with the artists, space is limited to 25 participants in each workshop and each person counts, be they 17 or 87 years old, so remember to register and we'll be in touch to confirm.
I'm not an artist, or artistically inclined. Is this workshop still a good fit?
Absolutely! As a participant, you're a part of the production team, which means you'll work alongside the artists to build the pieces that we'll use in the Processional on July 30. You aren't responsible for creating a masterpiece all by yourself but rather will be a part of the blind collaboration, where you come in and add to the work that participants before you did and someone will, in turn, add to your work to create the completed pieces.

I want to be a part of the performance on July 30. How can I do that?
Great! Click the green Register button at the top of the page to let us know that you want to be part of the cast. We'll be in touch from there about a rehearsal date and other information!