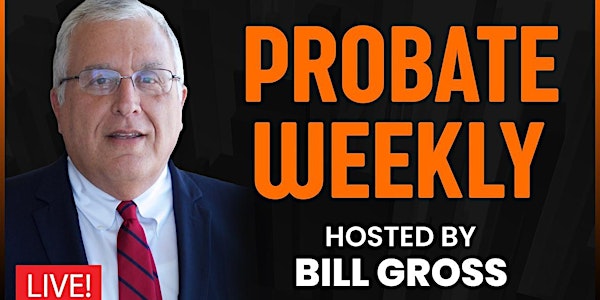 Multiple dates
Probate Weekly
Probate focused online meeting of real estate investors, wholesalers, and agents with the Los Angeles Probate Expert Bill Gross
By Bill Gross, the LA Probate Expert
Date and time
February 24, 2022 · 4pm - December 14 · 5pm PST
About this event
How to Get Your First Sale in Probate Real Estate
FREE Zoom Call: How to Get Your First Sale in Probate Real Estate
Join Weekly on Thursdays, 4 PM Pacific Time
There are lots of programs that promise to help you sell a LOT of homes, but how do you get your 1st sale?
As the baby boomer ages, the number of homes being passed on to heirs continues to increase. Los Angeles is the largest probate court in the United States.
On this phone call, I'll share with you different ways that I have generated a listing or buyer sale that do not cost you any money. I am not selling any service, coaching product, or training program, and I am not recruiting you to a team, although you may find you want to work with me. You don't even have to have a real estate license.
Ideal for wholesalers, bird-doggers, and flippers, learn how to find properties before they come to the market.
This is a Zoom call. Once you register, you'll get the link. The meeting is live, and all participants have a chance to ask questions both on the call or via Zoom chat.
I'll walk through in the first 20 minutes to lay out the methods you can use today. Pre-COVID I offered all attendees a free introduction live at the Los Angeles Probate Court, and I'll offer that again once the court allows visitors.
Just 2 weeks ago, a new wholesaler, Sonny, started working with me, and a week later got his first property under contract. It can be you.
Review:
"This training went above and beyond my expectations. Bill Gross is a 5-Star coach."Ilona Hodge, eXp Realty