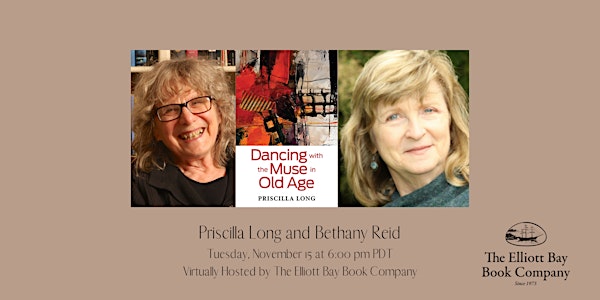 Priscilla Long, DANCING WITH THE MUSE IN OLD AGE, with Bethany Reid
Priscilla Long reads from and discusses her newest book with Bethany Reid
Refund Policy
Contact the organizer to request a refund.
About this event
We are beyond excited to virtually present and help launch the newest book by beloved Seattle writer, poet, and writing teacher Priscilla Long, Dancing with the Muse in Old Age (Coffeetown Press). This book is not only about keeping it going as age happens but turning it up a notch— to really flourishing with being alive and making beauty in the world.
"'You're still writing?' is a question I get more frequently the closer I slide toward 80. 'And making films too?' … Now comes Dancing with the Muse in Old Age, a richly documented book that spouts everything I want to say—and brilliantly. Priscilla Long not only says we can be creative as we reach whatever age might be our last, but we may be producing our finest, most brilliant work." —Gay Courter
"Dancing with the Muse in Old Age gives this septuagenarian hope that I have many productive years ahead of me, more than I thought. Its inspiring accounts of fruitful activity among those my age and older inspire me to think about how to make better use of my remaining years. Among these accounts are those of Priscilla Long herself who practices what she preaches, continuing to forge ahead with one project after another well into her 70s, including, most notably this book. Highly recommended for those who would like to stay productive and creative late in their lives."—Ralph Keyes
About the Book
Dancing with the Muse in Old Age uses current science to present old age as a potentially happy, creative, and productive time. Numerous models-including many elders active in the arts-illustrate the possibilities.
About the Authors
Priscilla Long is author most recently of Dancing with the Muse in Old Age (Coffeetown, 2022). Her second book of poems, Holy Magic (MoonPath Press), won the Sally Albiso Poetry Book Award. She is a Seattle-based writer of poetry, creative nonfiction, science, history, and fiction, and a long-time independent teacher of writing. Her awards include a National Magazine Award for a science-based feature. Her first book of poems is Crossing Over: Poems (University of New Mexico Press). Her other books include The Writer's Portable Mentor: A Guide to Art, Craft, and the Writer's Life (University of New Mexico Press), a collection of memoirist essays, Fire and Stone: Where Do We Come From? What Are We? Where Are We Going? (University of Georgia Press), and Minding the Muse: A Handbook for Painters, Composers, Writers, and Other Creators (Coffeetown). Her first book was Where the Sun Never Shines: A History of America's Bloody Coal Industry. She grew up on a dairy farm on the Eastern Shore of Maryland.
Over the last twenty years, Bethany Reid has published academic essays (you can find one in the Norton Critical edition of The Scarlet Letter), and hundreds of poems. Her books of poetry include The Coyotes and My Mom (Bellowing Ark Press, 1990), Be Careful (a limited edition chapbook from Chuckanut Sandstone, 2005), and Sparrow (Big Pencil Press, 2012), which won the Gell Poetry Prize. In addition to the Gell Prize, she has won several poetry awards, including Calyx's Lois Cranston Memorial Prize, and The MacGuffin's 22nd annual Poet Hunt Contest. In 2018, her new poetry book, Body My House, was released by Seattle's Goldfish Press.