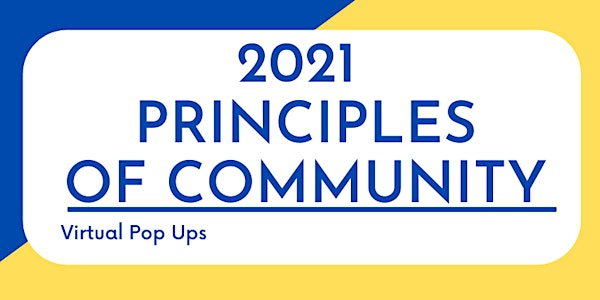 Principles of Community Week 2021 - Opening Day Kick-Off & Virtual Pop Ups
The annual Principles of Community at UC Davis Health is a week-long diversity celebration for internal and external community members.
When and where
Location
Virtual - Online Events UC Davis Health Sacramento, CA 95817
About this event
The Vice Chancellor's Staff Advisory Committee for Equity, Diversity and Inclusion and the Office for Health Equity, Diversity and Inclusion, invite you to the Annual Principles of Community Celebration.
UC Davis is a diverse community comprised of individuals having many perspectives and identities. We come from a multitude of backgrounds and experiences, with distinct needs and goals. We recognize that to create an inclusive and intellectually vibrant community, we must understand and value both our individual differences and our common ground. The UC Davis Principles of Community is an aspirational statement that embodies this commitment, and reflects the ideals we seek to uphold.
New for 2021, the Principles of Community is being celebrated with virtual "Pop Ups" throughout the week. Hosted by various constituent groups within the UC Davis Health community, these events will showcase the diversity and inclusive community we strive toward and value here at UC Davis Health.
Please refer to your ticket for specific event information.