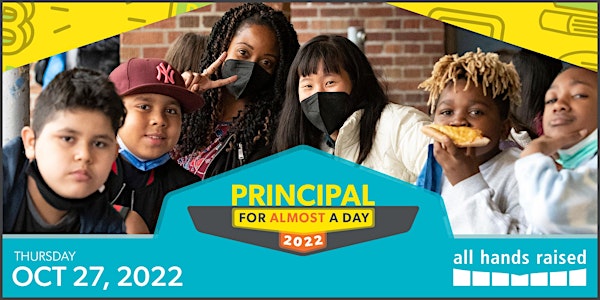 Principal for Almost a Day '22 - Be a Guest Principal
PFAD '22 - REGISTER TO BE A GUEST PRINCIPAL
About this event
Principal for Almost a Day (PFAD), now celebrating its 22nd year, brings together principals and community stakeholders for a half day to experience the incredible work of our education leaders firsthand.
How PFAD Works: We'll assign you to a designated school in Multnomah County to shadow a principal in person for a half day or virtually for a 1-2 hour online meeting.
Why should you participate in PFAD? We know COVID-19 has profoundly affected our schools, educators, administrators, and students. By participating in #PFAD22, you gain firsthand knowledge of the continued effects and challenges our school communities face but, just as important, inspiration to champion system change that will make a real impact.
Who produces the event? With a focus on racial equity, All Hands Raised (AHR) relentlessly and systematically connects our community's diverse assets with the explicit goal of working in new ways together to improve students' success inside and outside of school. Working with seven school districts, culturally specific organizations, and partners from early learning through college and career training, we pursue a single goal: improving the educational outcomes and long-term career prospects for the more 220,000 young people living in Multnomah County.
EVENT DAY SPECIFICS
Where: At a school in Multnomah County, or through a virtual meeting* with a principal. If you prefer a specific school, please indicate it during registration. We'll do our best to accommodate your request.
Timing: You'll likely arrive before school begins (ETA 7:00-7:30 am) and conclude before lunchtime.
*Virtual Meeting option: Start/end time and format TBD by your assigned school.
COVID Protocols: To participate, we ask that all guest principals follow the policy of the school and district to which you're assigned.
WANT TO INVITE YOUR LOCAL PRINCIPAL TO PARTICIPATE?
Please share this link: https://pfad22educators.eventbrite.com
WANT TO SPONSOR PFAD 22?
Get sponsorship details here.
QUESTIONS?
Contact Lucero: lucero@allhandsraised.org
REGISTER NOW!
We hope you'll join us for #PFAD22 to help accelerate innovation and achieve racial educational equity for all students.