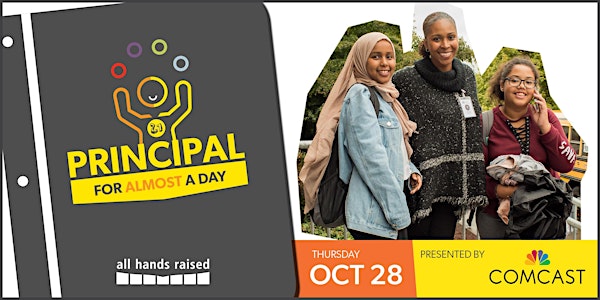 Principal for Almost a Day '21 - Be a Guest Principal
PFAD '21 - EDUCATION REIMAGINED
Date and time
Starts on Thursday, October 28, 2021 · 11:30am PDT
About this event
Principal for Almost a Day (PFAD) empowers community stakeholders to experience the tremendous work of our education leaders firsthand, along with both the opportunities and challenges they face. The half-day onsite concludes with a forward-thinking virtual program about our collective work moving forward.
Afterward, All Hands Raised will gather and evaluate the ideas generated by hundreds of PFAD participants across Multnomah County, then explore real ways we can convene our community to take action—and make impact where it's needed most.
PFAD is hosted by All Hands Raised, who champions racial equity in the educational system and mobilizes our community to advance sustainable systems change so every child achieves their full potential, from cradle to career.
EVENT DAY SPECIFICS
Where: Join a Principal at a Multnomah County school or participate in a virtual meeting* with a Principal. If you prefer a specific school, please indicate during registration. We'll do our best to accommodate your request.
Timing: You'll likely arrive before school begins (ETA 7:00-7:30 am) and conclude with our virtual lunch program at 11:30 am.
Lunch: Bring your own to enjoy during the livestream program.
Livestream Program • 10/28 • 11:30am-12:15pm Pacific: Transformational Leadership in the time of COVID—What Does It Look Like Now?
Livestream Panelists: They'll share their perspectives on our theme plus field questions posed by you—our virtual audience.
Dr. Danna Diaz, Superintendent, Reynolds School District
Chris Frazier, Principal, Franklin High School
Commissioner Susheela Jayapal, Multnomah County, District 2
Judy Strand, CEO, Metropolitan Family Service
COVID-19 Protocols: In order to participate, we ask that all Guest Principals follow the policy of the school and district to which you're assigned.
*Virtual Meeting option: Start/end time and format TBD by school.
REGISTER NOW!
We hope you'll join us for #PFAD21 to help accelerate innovation and achieve racial educational equity for all students.
WANT TO INVITE YOUR LOCAL PRINCIPAL TO PARTICIPATE?
Please share this link: https://pfad21-educator-reg.eventbrite.com
QUESTIONS?
Please email Lisa Dungan Roth: lisa@allhandsraised.org
About the organizer
QUESTIONS?
Please email Lisa Dungan Roth, Vice President Strategic Engagement & Communication: lisa@allhandsraised.org