A presentation of the BRIDGES Toolkit, which offers strategies for addressing and dismantling structures of exclusion in Higher Education
About this event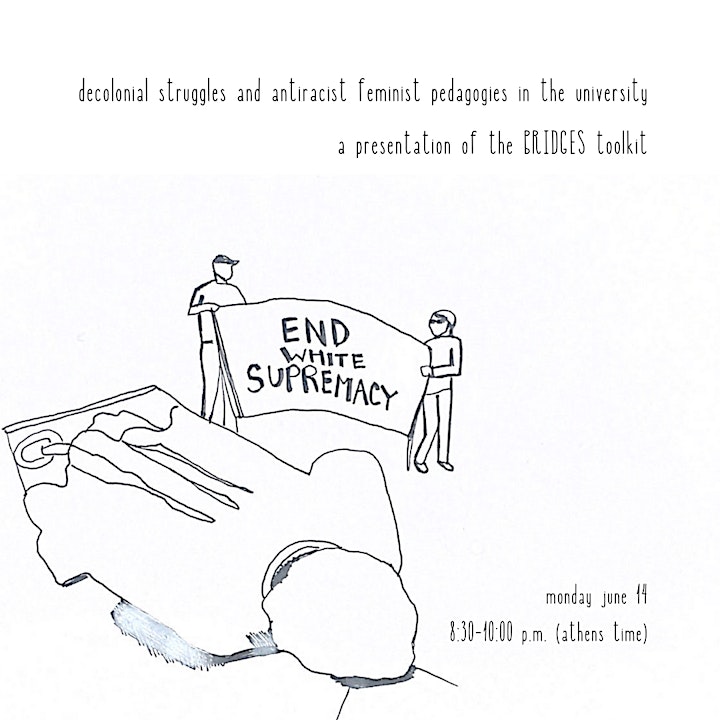 Decolonial Struggles and Antiracist Feminist Pedagogies in the University: a presentation of the BRIDGES Toolkit
Monday 14 June, 8:30 pm-10:00 pm (Athens time)
With: Deanna Dadusc (University of Brighton), Sandra Tejada M. (Universitat Autònoma de Barcelona), Eugenia D'Ermoggine (Sindillar), Emilia Carnetto (an.ge.kommen e.V), María Cárdenas (Justus-Liebig Universität Giessen), Shareen Elnaschie (Office of Displaced Designers), Aila Spathopoulou (FAC research), Marina Liakis (Za'atar NGO)
The event will take place on zoom. Everyone is welcome.
We'll hear from eight of the team of researchers who contributed to creating the BRIDGES Toolkit.
The BRIDGES Toolkit provides antiracist and feminist tools and strategies for addressing and dismantling structures of exclusion in Higher Education curricula. It was designed to be used by any instructor, in any field, at any EU higher education institution, but also cross-sectorally, by Civil Society Organisations and community-based organisations providing adult education programmes and staff training.
The BRIDGES Toolkit seeks to create decolonial cracks in order to transform the epistemologies, methodologies, and pedagogical practices through which knowledge is produced as abstract theory, which is intrinsically based on colonial principles of rationality, universality, and violence.
The BRIDGES Toolkit addresses the liberatory potential of "difference," as well as the dangers of its enclosure and tokenization within higher education institutions. It proposes transformative practices that seek to dismantle colonial and racist relations of power. The BRIDGES Toolkit thereby seeks to raise critical questions around the (im)possibility of decolonising these institutions.
The BRIDGES Toolkit is available in four languages: English, Español, Eλληνικά, Deutsch
Since the BRIDGES Toolkit is a work in progress, we look forward to hearing your thoughts about it during and after the event (we'll request that participants fill out a brief feedback form to help us reflect and revise). We will collectively reflect on the following questions:
To what extent is it possible to do antiracist, feminist, anti- and decolonial work within European and Eurocentric academic institutions?
Given the institutionalisation of "decolonial" as a buzzword, how can it be reclaimed and radicalised in conjunction with a no borders politics?
About BRIDGES:
The BRIDGES project brings together researchers from both inside and outside the academy to co-create knowledge through antiracist feminist practices. We seek to dismantle the assumptions that theory must be derived from a process of abstraction that is detached from everyday struggles. Using Participatory Action Research methods, BRIDGES addresses the practical ways that Higher Education Institutions (HEI) can tackle discrimination and promote social inclusion, in particular, of people with migration backgrounds who encounter barriers due to intersecting discriminations based on "race", ethnicity, language, religion, citizenship status, gender identity and expression, sexuality, class, age, disability or trauma.
Partner organisations: Universitat Autònoma de Barcelona, Sindillar, Justus-Liebig Universität Giessen, angekommen e.v., Feminist Autonomous Centre for Research, Za'atar NGO, University of Brighton, Office of Displaced Designers
Illustration is based on a photograph by Darren Thompson, Native News Online, 2020. Image description: A statue of Christopher Columbus lies face-down on the ground after having been toppled by Indigenous activists. A banner in the background held by two people reads: "End White Supremacy."
BRIDGES: Building Inclusive Societies: Diversifying Knowledge and Tackling Discrimination through Civil Society Participation in Universities (Project n. 2019-1-ES01-KA203-064429) is co-funded by the Erasmus+ Programme of the European Union. This project has been funded with support from the European Commission. Disclaimer: The views expressed in this communication and during the event itself do not reflect the positions of the European Commission, but only of the researchers.