Presentation Abstract Registration / Submission for Consideration at the November 8, 2018 New England Joint Oracle User Group Meeting

Sunday, September 2, 2018 at 3:00 PM

-

Wednesday, October 31, 2018 at 11:59 PM (CDT)
Event Details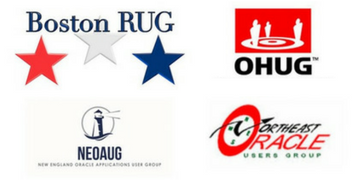 November 8, 2018 New England Joint Oracle User Group Meeting Presentation Abstract Registration / Submission GUIDELINES, TERMS and CONDITIONS
In response to past challenges with accessing the presentation abstract submission form on a Google drive -- per corporate firewall blockage -- an alternate process has been developed.

The Greater Boston PeopleSoft and JD Edwards User Group (BUG), New England Oracle Applications User Group (NEOAUG), Oracle Human Capital Management Users Group (OHUG) and Northeast Oracle Users Group (NOUG) invite you to to "register," i.e., submit one or more presentation abstracts for review and consideration by members of the New England joint Oracle user group event planning committee, either using this "registration site" or logging onto our Google drive at https://goo.gl/forms/f1AijFiAmxd9DU8g2.

Presentation abstract registrations / submissions for a 50-minute educational breakout session are due by August 31, 2018.

To begin the abstract registration / submission process via this site, the Submitter, who could be different from the presenter(s), should click on "Register" and enter his or her First and Last Name and Email Address under "Your Information."   Through a series of questions, complete presenter and presentation absract information will be captured.

Multiple submissions are welcomed, by just repeating the process.
NOTE: Registering / submitting an abstract does not guarantee selection.  Once accepted, ONLY Oracle Business Partner Presentations NOT Co-Presented with a Customer or NOT delivered by an Oracle Ace Director will be subject to a sponsorship fee of either $500 (if bundled with an exhibit table at an additional $1,750 for a Total of $2,250) or $1,000 (if not bundled wtih an exhibit table or any other sponsorship).
Requests for assistance should be directed to Event Coordinator Joanne Brennan by emailing JoanneBrennanTBF@aol.com.
When & Where

Gillette Stadium




Sunday, September 2, 2018 at 3:00 PM

-

Wednesday, October 31, 2018 at 11:59 PM (CDT)
Add to my calendar