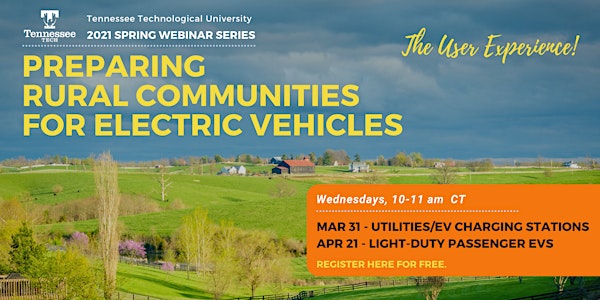 Preparing Rural Communities for EVs: Utilities/Charging Stations
Utility representatives and EV drivers will provide perspectives on current and future work on EV charging in rural communities.
About this event
Tennessee Technological University (TNTech) presents the 2021 Spring Webinar Series "Preparing Rural Communities for Electric Vehicles - The User Experience" that is part of TNTech's "Developing an EV Demonstration Testbed in the Upper Cumberland" Project.
Come register for these free webinars, where current electric vehicle (EV) drivers and utility and energy business leaders will provide insight and will cover a range of topics from what it's like to drive an EV, day-in and day-out, while providing what the bigger plan is that will directly affect rural communities with a focus on the "Upper Cumberland" (UC) area of Tennessee, a 14-county region in the middle of our state.
The first of the two webinars will drill down on utilities and regional EV charging stations and is on Wed, March 31st. We will discuss the infrastructure that has already been installed in the UC through this project, showcase a couple of EV users from the area who will provide their personal experience of charging at home and the importance of public charging accessibility, then have three area utilities (or LPCs in TN - Local Power Companies) that will discuss their participation in the "EV Rural Testbed" project and perspectives and plans towards further electrifying the region with Level 2 and DCFC equipment. Lastly, this webinar will also showcase national utility representatives that will provide a broader perspective on working with rural utilities to target rural areas for EV and EVSE education and infrastructure programs.
Last but not least, we will highlight that project and the opportunity it presents to regional citizens to test drive an EV at no cost to them for up to two weeks. For those who qualify, you can apply to be part of TNTech's "EV Rural Testbed" project catering to the 14-county Upper Cumberland region. (To learn more about this project and opportunity for UC citizens to test drive an EV, please contact Dr. Pingen Chen at at TNTech at pchen@tntech.edu. You can also visit https://www.tntech.edu/engineering/research/ev-demo-testbed.php for more information.)
Register today! We look forward to talking with you.
AGENDA
Introductions and "Developing an EV Demonstration Testbed" project overview
Public Charging Infrastructure Importance - Three User Experiences
Three Local Utility Managers' Perspectives on making EV charging more widespread in the Upper Cumberland Region
National perspective - National Rural Electric Cooperative Association's (NRECA's) work to educate its members on EVs and EVSE
Q/A