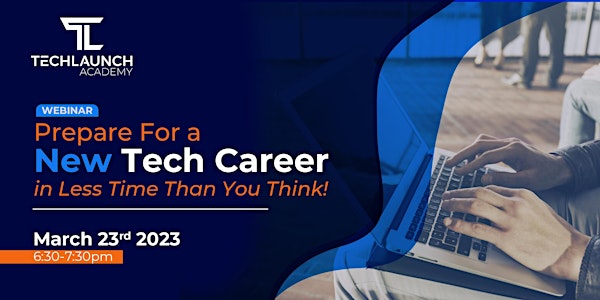 Prepare For a New Tech Career in Less Time Than You Think!
TechLaunch presents a FREE webinar to discuss the growing IT industry in S. Florida and how to launch a career in this high-demand field.
Date and time
Thursday, March 23 · 3:30 - 4:30pm PDT
About this event
Do you want to start a career in an industry that offers a high earning potential without requiring a 4-year college degree, or are you looking to advance your current IT career?
You can prepare for a career in IT and Cybersecurity with little or no prior experience. Earn key certifications and transition into a career in technology in weeks… not years!
In this FREE information session, hear from industry leaders on how you can train for an exciting career in the high-demand and growing industry of IT. You can prepare for a new career in as little as 9 weeks!
Information Session Details:
March 23, 2023 - 6:30PM EST
At this event, you will receive an overview of the exciting world of Cybersecurity, current trends in IT & Network Security, hiring expectations, and career opportunities. Learn about the increasing need for certified IT professionals and how you can start on a path to a new career today!
Key Topics of Discussion
Why are careers in IT and Cybersecurity growing and in high demand?
What does a day in the life of an IT professional look like?
Hear about the current demand and opportunities in Information Technology and Cybersecurity.
Learn about specific in-demand careers in Information Technology (IT) & Cybersecurity that have a great future for growth.
Understand the credentials employers are looking for.
Learn how to prepare for IT certifications in as little as 9 weeks.
Explore a variety of funding options including special scholarships for those looking to make a career change.
Register for Your Virtual Seat Now!