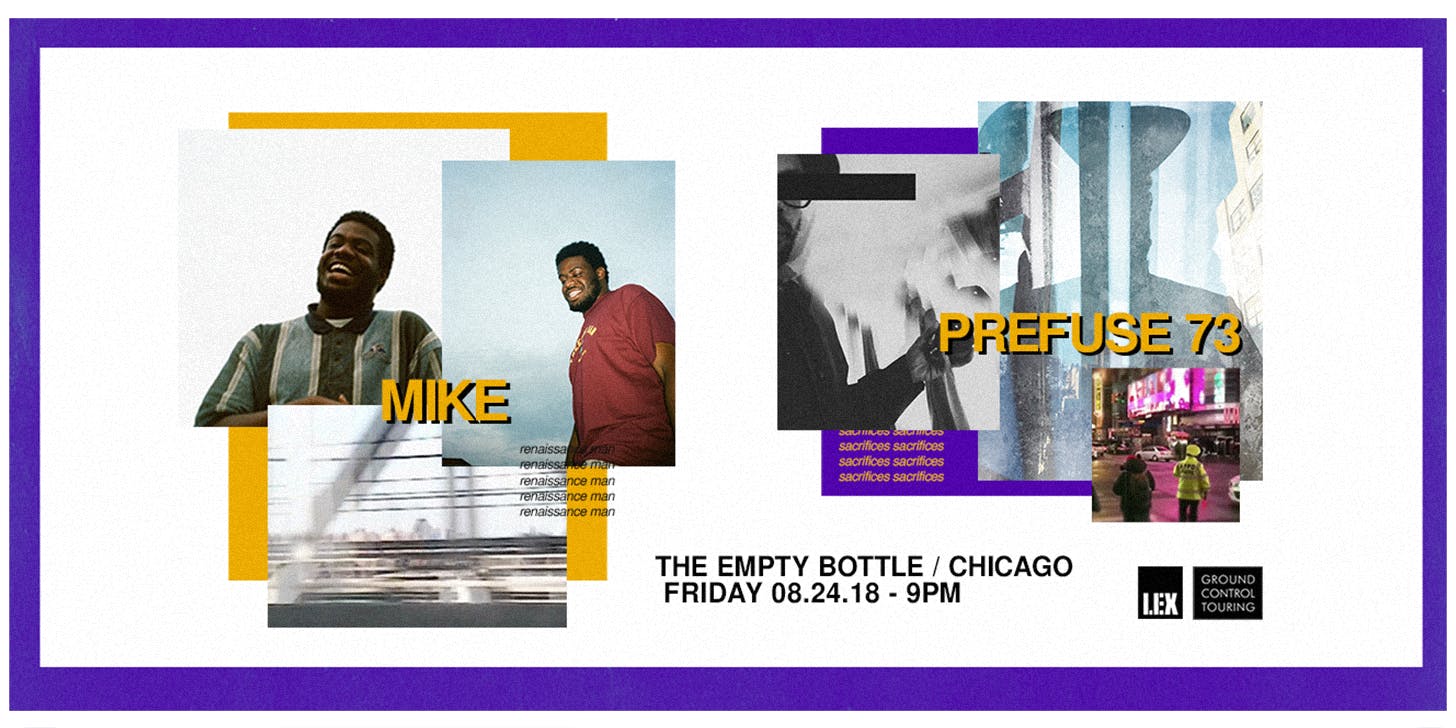 About this Event
$12 // 21+
------------
Guillermo S. Herren (PREFUSE 73), has recently released his first solo album in three years. Following a detour into fractured, kaleidoscopic hip-hop on recent releases, Herren has become increasingly interested in injecting a sense of space into his characteristically complex productions. The resultant 17-track collection is akin to watching an old photograph deteriorate in one's hands, as otherwise dense beats dissipate into airy expanses of emotionally resonant electronics. Its effect is not unlike attempting to recall a murky memory of a dream of Herren's earliest works, imbibed with the subtlety of modern minimalism.
PREFUSE 73 has long been distinguished for an unparalleled ability to merge the manic to the melodic, treating head-bobbing hip-hop productions to prismatic editing techniques while retaining a hummable, evocative consonance. His trailblazing early albums altered the course of underground music and influenced the paths of countless artists, though few could emulate his uncanny skill for evoking urgency via virtuosity. But Sacrifices presents new terrain for the enigmatic Herren, a reinvigorated progenitor unafraid to swap his trademark freneticism for patient sonic pointillism, casting his penchant for beat making in an atmospheric new light."
At just 19, MIKE's music carries age beyond his years. Born in New Jersey, MIKE moved to London with his mother before settling in The Bronx for the remainder of his later teenage years. Both regions have had an audible influence on the young rapper's music - in England he was immersed in grime and the music of King Krule, and in the United States he was turned on to Earl Sweatshirt and MF Doom. In New York, he discovered several artists with a similar ear and style and formed his collective [sLUms]. Consisting of sixpress, dj ???, King Carter, Jazz Jodi, and DJ Mason, the group is a diverse range of producers and rappers who each make music about the tribulations of coming of age and being black in New York City. A recent signee to Ground Control Touring and a current student of Earl Sweatshirt's mentoring, it's nothing but up from here for MIKE. 
Jimmy Lacy brings a decade of wild synthesizer to his latest and most personal project to date, SiP. Meaningful synths and calm rhythms clear the space to think about your life and the decisions that have gotten you here, without judgement.