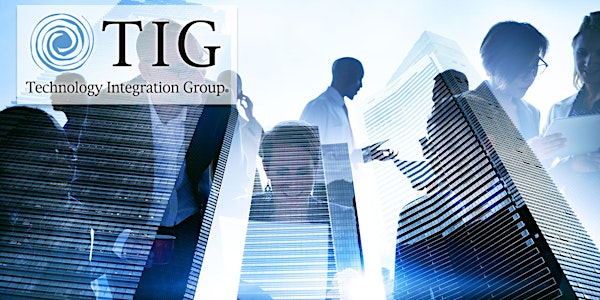 Predictive Analytics Meet-Up: Hands-on Deep Learning Workshop
By TIG - Technology Integration Group
Date and time
Tuesday, March 7, 2017 · 6 - 8pm PST
Location
TIG Corporate Headquarters 10240 Flanders Court San Diego, CA 92121
Description
Join us for a meet up to learn how TIG and Intel can help you and your business.
Deep learning is unlocking tremendous economic value across various market sectors. Individual data scientists can draw from several open source frameworks and basic hardware resources the very initial investigative phases but quickly require significant hardware and software resources to build and deploy production models. Intel Nervana has built a competitive deep learning platform to make it easy for data scientists to start from the iterative, investigatory phase and take models all the way to deployment. Nirvana's platform is designed for speed and scale, and serves as a catalyst for all types of organizations to benefit from the full potential of deep learning. Example of supported applications include but not limited to automotive speech interfaces, image search, language translation, agricultural robotics and genomics, financial document summarization, and finding anomalies in loT data. In this talk, we will give an overview of Nervana's DL platform and get some hands-on experience using this platform to train and execute deep learning models.
Speaker: Sathish Nagappan, Engineer – Deep Learning Platform
Sathish Nagappan is a cloud & machine learning engineer at Intel Nervana. He was an early team member at Nervana and a core contributor to the Nervana Cloud platform and neon framework. He graduated from Stanford University with an M.S. in Computer Science.
Hosted By: Dean Abbott, Chief Data Scientist
Dean Abbott is Co-Founder and Chief Data Scientist of SmarterHQ, and President of Abbott Analytics, Inc. in San Diego, California. Mr. Abbott is an internationally recognized data mining and predictive analytics expert with over two decades of experience applying advanced algorithims and data preparation techniques to real-world problems in customer acquisition and churn, fraud detection, text mining, HR analyticsm, and more. He has been named as one of the 10 Most Influential People in Data Analytics, the top 12 influencers in data mining, 10 pioneering data scientists, and 200 thought leaders in big data.
Mr. Abbott is the author of Applies Predictive Analytics (Wiley, 2014) and co-author of IBM SPSS Modeler Cookbook (Packt Publishing, 2013). He is a highly-regarded and popular speaker at Predictive Analytics and Data Mining conferences and meetups, and is on the Advisory Boards for the UC/Irvine Predictive Analytics Certificate and the UCSD Data Mining Certificate Programs.
He has a B.S. in Mathematics of Computation from Rensselaer (1985) and a Master of Applied Mathematics from the University of Virginia (1987). You can also follow him on Twitter at @deanabb.
About the organizer
Technology Integration Group (TIG) is a privately-held, ISO 9001:2015 and Open Trusted certified IT solutions provider.  TIG is acutely aware of the ever-changing demographics and needs in various customer markets and how these changes influence future technology. For the past 40 years, TIG has consistently delivered innovative technology solutions to an expanding, diverse customer base in enterprise, government, and educational markets. TIG's ability to stay agile is a vital part of its core business achievements and essential to long-term customer sustainability. From discovery assessments and strategic planning, deployment, data center optimization, IT asset management, and cloud computing, TIG offers flexible IT solutions for businesses around the globe.
In addition to the company's headquarters in
San Diego, TIG has 20 offices located in Albuquerque, Atlanta, Denver,
Honolulu, Indianapolis, Irvine, Knoxville, Los Angeles, Pensacola, Philadelphia, Portland, Richmond,
Sacramento, San Antonio, Seattle, Tampa, Ottawa
& Toronto Canada and Shanghai China.