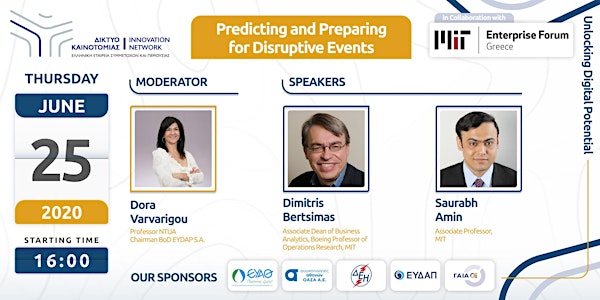 Predicting and Preparing for Disruptive Events
Unlocking Digital Potential: Predicting and Preparing for Disruptive Events
About this event
Discussion around how disruptive events like COVID19 can be anticipated and what design decisions need to be made in order to create resilient infrastructure.
Moderator:
Dora Varvarigou, Professor at the School of Electrical and Computer Engineering of NTUA
Speaker:
Dimitris Bertsimas, Boeing Professor of Operations Research, MIT
Speaker:
Saurabh Amin, Assistant Professor in the Department of Civil and Environmental Engineering, MIT
Date: Thursday, 25 June 2020 at 16:00
Organizer of Predicting and Preparing for Disruptive Events
The HCAP Innovations Network's mission is to accelerate the introduction of the new technologies in the state-owned enterprises.
Companies like OASA Group, PPC Group, EYDAP, EYATH, GAIAOSE and ELTA bring together their know-how and forces in order to examine the innovative ideas that can reshape the traditional revenue models, create new products and better services for their clients and improve their operational cost base.
The creation of innovative pilot projects, as well as the communication of the Network's vision to the broader digital ecosystem of the country, with the direct organization of an open tech-conference and the invitation for cooperation between different innovation bodies on open data are among the first priorities of the Network.