Description
Kickstarter is sponsoring this meetup at makerspace Artisan's Asylum for people to meet on the evening before the Open Hardware Summit (OHS).

This event is free to attend thanks to the generous support from Kickstarter and Artisan's Asylum. However, donations are encouraged to the Ada Lovelace Fellowship for the Open Hardware Summit: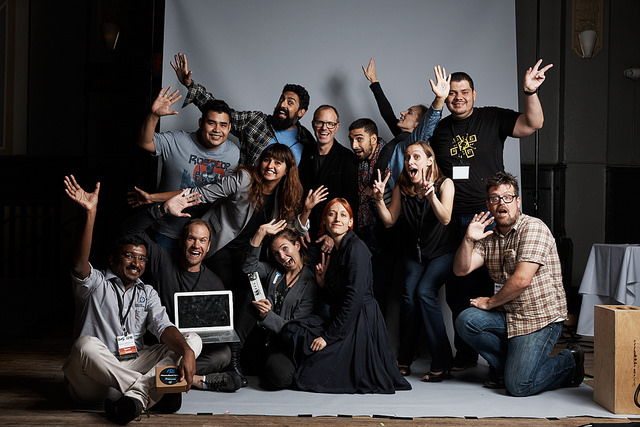 The Ada Lovelace Fellowship was founded in 2013 prior to the annual Open Hardware Summit at MIT by Summit Chair Addie Wagenknecht and OSHWA Director Alicia Gibb as a way to encourage women, LGTBA+ and/or other minorities in open technology and culture to actively participate and foster a more diverse community within open source.
For the sixth year, we are excited to offer up to ten Open Hardware Fellowships to members of the community which includes a $500 travel stipend and entrance to the Open Hardware Summit.
By offering the annual travel and summit conference assistance to community members, the Open Source Hardware Association hopes we as a community can encourage more women, LGBTA+ and/or people of color to participate in open source. We have many strong leaders and speakers in our field and we personally want to continue the trend upward.
PLEASE CONSIDER DONATING! :)
Note: this event will be concurrent to the Women in Hardware Dinner
FAQs
What if I am not attending the Open Hardware Summit?
Everyone can come to this event regardless of whether you are attending the Open Hardware Summit. Please make sure to RSVP to this event by checking out above with one of the ticket options. It should be a good time for anyone that is interested in meeting people who are involved with Open Source Hardware projects.
When do ticket sales end?
The ticket sales for this event end on Friday night, September 28th, in case anyone wants to donate during the Summit or day after Summit.

How will funds be transfered to the Ada Lovelace Fellowship?
Drew Fustini has configured the Eventbrite Pay-Out settings to use PayPal account info@oshwa.org. This address was provided to Drew by Alicia Gibb, executive director of OSHWA and co-founder of the Ada Lovelace Fellowship.
How can I contact the organizer with any questions?
Please email Drew Fustini ( drew AT oshpark DOT com ) with questions. Drew will follow up with the appropriate people from OSHWA, OHS18, Aristan's Asylum and/or Kickstarter.
Thank you to Clarissa Redwine and Noah Feehan from Kickstarter for helping to organize and sponsor this event!