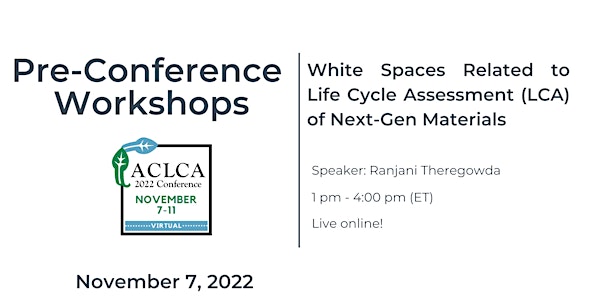 Pre-Conference Workshop: White Spaces Related to LCA of Next-Gen Materials
New Technologies, Gaps, and Markets
Refund Policy
Contact the organizer to request a refund.
Eventbrite's fee is nonrefundable.
About this event
This course aims to introduce the participants to the new technologies of next-gen materials; gaps in the existing materials industry and markets; and the gaps in sustainability/LCA approaches that can be solved via collaborative work amongst stakeholders in the industry.
The term "next-gen materials" refers to materials that are more sustainable, high-performance, livestock-free direct replacements for conventional animal-based leather, silk, down, fur, wool, and exotic skins.
Participants of the workshop will gain an understanding of the broad range of next-gen material technologies and the potential of the next-gen industry to provide lower impact materials for the fashion, automotive, and homegoods industries.
Because of the nascency of this industry, most next-gen materials are in the R&D phase, which means that new manufacturing processes and novel bio-based raw material inputs are still evolving, making the practicality of full LCAs difficult.
Similarly, innovators may not have access to available and verified datasets for which to measure environmental impact for these new materials and processes. Further, this new industry needs best practices for appropriate LCA methods and system boundaries, and standardized guidelines such as Product Category Rules (PCR). Consequently, the workshop aims to educate the participants about the issues faced by the next-gen material innovator
There will be time for discussion and Q&A. The session will be taped and will be available on-demand for attendees.
This course and all Pre-Conference Workshops are available as part of the ACLCA 2022 Conference here. If you are NOT interested in purchasing all the Pre-Confernce Workshop or do not plan on attending ACLCA 2022 Conference you can buy tickets through Eventbrite.
Details on ACLCA 2022 Conference, inclduing all Pre-Conference Workshops and ACLCA 2022 Conference presentations and activities can be found here.