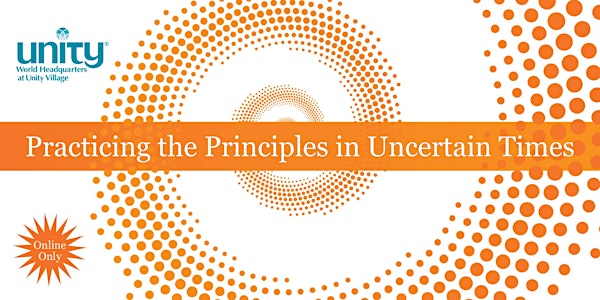 Practicing the Principles in Uncertain Times
An online panel discussion about ancient spiritual teachings that will elevate your outlook and help you find clarity in today's world.
Refund Policy
Contact the organizer to request a refund.
Eventbrite's fee is nonrefundable.
About this event
Has your inner peace been challenged by the upheaval of 2020?
Through pandemic and social unrest, you may be wondering how to stay centered and peace-filled. In quiet moments, are you asking questions such as:
How do I find peace in the midst of an ever-changing world?
How do I discern what is mine to do in times of unrest? Do I act? Do I simply hold space?
How can I see things differently when my mind seems filled with anxiousness?
You're Invited to an Online Event
Join New Thought leaders Revs. Ellen Debenport, Michael Gott, Wendy Craig-Purcell, and Sheila McKeithen, J.D., for a spirited discussion about translating spiritual beliefs into social action.
While we strive to stay centered ourselves, we must also discern what is ours to do.
You'll come away with a deeper understanding of these foundational spiritual teachings as well as practical tools to restore your inner peace and guide you to right action.
What Are the Five Ancient Teachings?
God is all there is and is present everywhere. This is the force of love and wisdom that underlies all of existence.
Human beings are divine at their core and therefore inherently good.
Thoughts have creative power to determine events and attract experiences.
Prayer and meditation align us with the one great power in the universe.
It is not enough to understand spiritual teaching. We must live the truth we know.
Who Are the Presenters?
The presenters include New Thought leaders:
Rev. Ellen Debenport is vice president of publishing at Unity World Headquarters at Unity Village, Missouri, and author of The Five Principles.
Rev. Sheila McKeithen, J.D. is president of the Universal Foundation for Better Living and senior minister at Universal Centre of Truth for Better Living in Kingston, Jamaica, and author of Twelve Steps to Your Healing.
Rev. Michael Gott is senior minister at Unity of Houston, Texas, and a New Thought singer/songwriter with 10 albums.
Rev. Wendy Craig-Purcell is CEO and spiritual leader at The Unity Center in San Diego, California, and author of the award-winning Just for Today journal.
Price: Contribute as You Choose
This online event is available on a donation basis. Please consider a donation amount of $25, $50, $100, or you can choose a different amount.
Have questions? Call us at 816-251-3540, Monday through Friday, from 7:30 a.m. to 4:30 p.m. (CT), or email us at unity@unityonline.org.