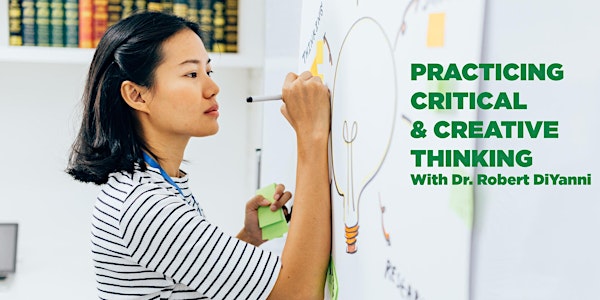 Practicing Critical & Creative Thinking (Three-day Seminar)
WHEN: June 13-15 | TIME: 9:00 a.m. - 10:30 a.m and 11:00 a.m. - 12:30 p.m. | CONVENER: Dr. Robert DiYanni
By The Faculty Collaborative (TFC)
Date and time
June 13 · 6am - June 15 · 9:30am PDT
About this event
2 days 3 hours

Mobile eTicket
Practicing Critical & Creative Thinking
with Robert DiYanni, New York University
In this three-day seminar, we will explore a series of provocations to higher-order thinking, both critical and creative. The goal of each session is, first, for participants themselves to experience different thinking strategies, and, second, to consider how to help their students apply those strategies to improve their critical and creative thinking.
The seminar, though based on research and professional practice in a range of disciplines, will not include discussions of theory. Nor will it be linked directly with any particular academic or professional discipline. Instead, participants will engage with the seminar leader in a series of classroom-tested, hands-on thinking exercises across a range of approaches to thinking that can be applied across disciplines. These approaches include parallel and lateral thinking, visual and metaphorical thinking, design thinking, and decision thinking—among others.
Each of the three-hour seminar sessions is self-contained, thus allowing participants to attend anywhere from a single session to the full suite of three sessions. The seminar will be interactive and discussion-based. Readings from the list of recommended books will be referenced throughout the seminar sessions, but need not be read in advance. Chapters from some of the recommended books will be provided as word documents and pdfs, either during or after each session.
Certificates indicating participation in individual seminar sessions will be provided, as well as a certificate for completing the full seminar.
Seminar Leader
Robert DiYanni is an adjunct professor of humanities at New York University, where he has been teaching a course on critical and creative thinking for two decades. During his more than half a century teaching at eight higher education institutions, Harvard University among them, Dr. DiYanni (Ph.D., English) has taught more than 50 different university courses across multiple humanities disciplines. He has also written and edited nearly as many books on literature, writing, interdisciplinary humanities, teaching & learning, and critical & creative thinking. His most recent books include Critical Reading Across the Curriculum, 2 volumes (Wiley-Blackwell, 2017 and 2020), The Craft of College Teaching (Princeton UP, 2020), and You Are What You Read (Princeton UP, 2021). His current project, We Are All Teachers Now: Learning With the World's Great Teachers, is under development.
Professor DiYanni has also had the privilege of working with founding Director of The Faculty Collaborative, Debra Szybinski, in her former capacity as Executive Director of the NYU Center for the Advancement of Teaching.
Seminar Schedule
Tuesday, June 13
Morning: 9:00 am – 10:30 am (New York Time)
Introductions
What is higher order thinking? Who exemplifies higher order thinking?
Parables as Provocations
Going Meta: Parables + / Discussion
Afternoon: 11:00 pm – 12:30 pm (New York Time)
Why Put Critical and Creative Thinking Together? Daniel Pink and Sir Ken Robinson et al. (SLIDES and Talk) + Discussion
Six Thinking Hats—Edward de Bono
Wednesday, June 14
Morning: 9:00 am – 10:30 am (New York Time)
Edward de Bono: Lateral Thinking / Random Word
Thinking Through Visuals: Shapes / Images
Afternoon: 11:00 pm – 12:30 pm (New York Time)
Design Thinking: Principles and Paradoxes (Numbers / Graphs et al)
Thinking about Language: Hayakawa / Metaphor and Connotation
Thursday. June 15
Morning: 9:00 am – 10:30 am
Creative Thinking: Roger Von Oech, Creative Whacks
Creative Thinking: Michael Michalko, Thinkertoys
Afternoon: 11:00 pm – 12:30 pm
Decision Thinking, from Critical and Creative Thinking, Robert DiYanni
Think Again, Adam Grant