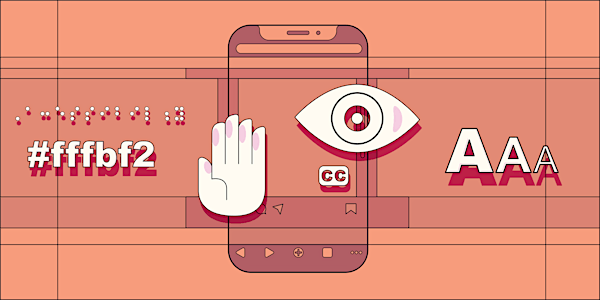 Practice Makes: Accessibility – A Remote Design Lecture Series
Join us for our first ever multi-night Practice Makes series, where we'll gather to talk about about accessibility in product design.
About this event
Join us for our first ever multi-night Practice Makes series, where we'll gather to talk about accessibility in product design, one of the biggest discussions happening in our industry right now.
Product accessibility is increasingly gaining the spotlight it has always needed and deserved within the tech space. As designers and engineers, we have a responsibility to educate ourselves on what disabled people experience and to provide experiences that account for their needs and ways of navigating the world. Over the course of three nights, we'll hear from designers and accessibility experts in the field and talk about how to be a better practitioner of accessible design.
Some additional details about this event:
We will be hosting this event using Microsoft Teams Live. Teams Live Events are not private, not considered fully secure, and these events are being recorded. All event recordings will be immediately deleted at the end of each event.
Closed Captions will be active during the event.
Some presenters may opt to share their presentation content after the event is over.
Daily Event Schedule
6:00PM EST: Opening Statement
6:05-6:25PM EST: Speaker #1
6:25-6:35PM EST: 10 Minute Break + Teams Live Link Changeover
6:40-7:00PM EST: Speaker #2
7:00PM EST: Closing Statement
The Lineup
Tuesday, February 2nd
Driving Innovation through Disability Inclusion | 6:00PM
Sarah Cline | Manager & Culture Shaper at Accenture
Sarah Cline is on a mission to accelerate a culture of equality and enabling people of all abilities to perform at their full potential. Speaking from her point of view as a person with a disability, U.S. Disability Lead, as well as a Manager in the technology space, she'll affirm how disability inclusion is a key contributor to unlocking innovation. She'll also share how our simple, everyday actions can break down barriers and create an inclusive environment.
Community Centered Design | 6:40PM
Soren Hamby | Lead Product Designer at Mission Lane, Expansion and Accessibility
In tech and design, even using user or human centered design, we have a sample set and self-centering problem that leads to our products falling short on inclusion and accessibility. Community is the answer.
Wednesday, February 3rd
Working Backwards: How "outside the box" innovation requires more than check the box accessibility | 6:00PM
Trip O'Dell | Chief Experience Officer at Habitat Logistics
Trip's expertise in accessibility predates his product design career at companies such as Adobe, Microsoft. In 1979, as a first-grader, he was diagnosed with severe Dyslexia (among other labels). Trip explains how his differences have been the strategic advantage that led to patents, new products, and disruptive innovation that delivered billions of dollars of impact at a global scale.
Thursday, February 4th
Exploring Double (Vision) Standards | 6:00PM
Amanda Santello | Accenture Digital Products Boston Design Capability Lead
In a work environment, we are held to certain standards and expectations by our colleagues. There is a recent acknowledgement of neurodivergence, but even then, we can never be sure that all disabilities or disadvantages experienced at the individual level are accounted for in the workplace. Amanda will share her personal experience of having double vision, and how it has revealed double standards in our day-to-day that we can all try to be mindful of.
Disabled Design: Understanding Accessible Practices | 6:40PM
Jessica Oddi | Freelance Graphic Designer
Accessible design requires both technical standards to adhere to as well as actual input and involvement from the disabled community. Authentic representation, compensation, and involvement is crucial for accessibility in design. You cannot build something for us, without us.
Instagram - Guest Author
Unconscious Exclusion | On Instagram throughout the event
Prasanna Venkatesh | Senior Product Design Manager at Swiggy
In our Instagram stories on @practicemakes.bos Prasanna talks about how seemingly normal and regular activities and actions can be really difficult to perform by virtue of being a deaf person.