Description
"Practical Innovation workshop using TRIZ" Webinar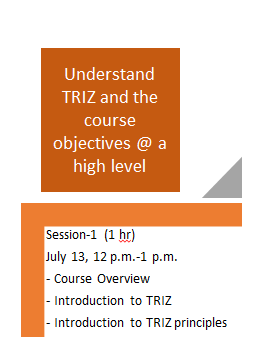 "TRIZ" is the (Russian) acronym for the "Theory of Inventive Problem Solving." TRIZ is an international science of creativity that relies on the study of the patterns of problems and solutions, not on the spontaneous and intuitive creativity of individuals or groups. More than three million patents have been analyzed to discover the patterns that predict breakthrough solutions to problems, and these have been codified within TRIZ.
TRIZ is spreading into corporate use across several parallel paths – it is increasingly common in Six Sigma processes, in project management and risk management systems, and in organizational innovation initiatives.
July 13 session is the introduction to TRIZ, and its principles. Click here or the link below for the flyer.
If you are interested in learning more after Session 1, you can sign up for the Session 2, 3 and 4 using below link.
https://www.eventbrite.com/e/practical-innovation-workshop-using-triz-session-2-3-and-4-tickets-46806812436
SPEAKER BIO
Sunil Kumar V Kaushik, PMP, SPSM, CPSCM, ASQ-SSBB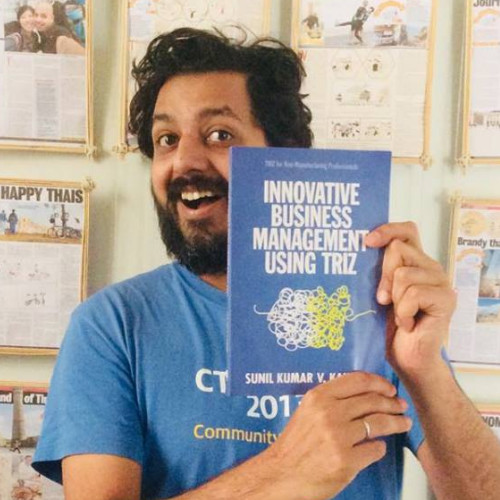 •Author of the book "Innovative Business Management using TRIZ" and TEDx Speaker
•Cycled 21 countries from Thailand to Portugal consulting & conducting workshops on TRIZ for more than 1000 @ University of Piraeus, European Union co-funding agencies (Greece), APQ (Lisbon), ASQ (Barcelona)…etc.
•Worked and Consulted Fortune 100 companies like IBM, GE-Aviation, Microsoft, Accenture, Emerson..etc.
•ASQ's Influential Voice of Quality
EVENT DATE: Friday, July 13, 2018
This webinar will be a virtual meeting.
12:00 p.m.-1:00 p.m. (EST) – Presentation ("bring your own lunch")
Meeting log-in information will be provided after you have registered.
ASQ membership is NOT required to attend this event, so please share this information with your friends and colleagues!
Registration deadline: Wednesday, July 11, 2018, at 5:00 p.m. (EST)
Professional Development: Receive 0.1 Recertification Units (RU) or 0.1 Continuing Education Unit (CEU) by attending this webinar.