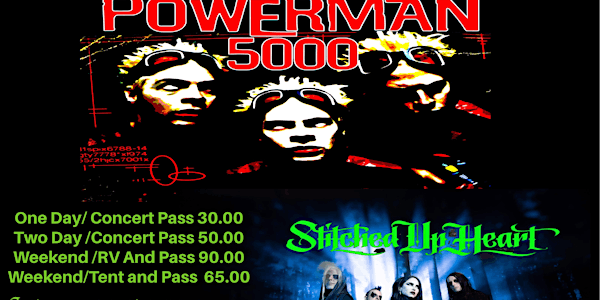 Powerman 5000 w/ Stitched Up Heart, Julien-K, & Pr
What a lineup! This is the best local rock show this year, hands down - don't miss it!!
Date and time
Starts on Friday, July 14 · 5pm MDT
Location
Twin Falls County Fairgrounds 215 Fair Avenue Filer, ID 83328
Refund Policy
Contact the organizer to request a refund.
Eventbrite's fee is nonrefundable.
About this event
Tickets go on-sale on Wednesday, 03/15/23 at 10am.
Tickets are $30, and may be bought from srb2023rockshow.eventbrite.com or from any SRB member.
This is an all-ages, family-friendly, outdoor event. Alcohol will be available for sale for those 21 and up with valid identification, and food is also available.
Gates are at 5:00pm, show starts at 6:30pm. Please note that tickets are non-refundable unless the show is cancelled.
This concert is happening during the annual Snake River Bros Rally in the Valley, proceeds from which benefit local children's causes. Snake River Bros are a non-profit 501 (c) 3 motorcycle organization.
In addition to the $30 concert ticket, which allows you to spend the entire day at the event, we also have a full weekend pass for $50, a full weekend pass with a tent spot for $65, and a full weekend pass with an RV spot for $90. The RV spots have power and water*.
All of the full weekend passes also include both concert nights (see srb2023countryshow.eventbrite.com for details on the other concert).
*If purchasing an RV spot, please call Cherie @ 208-989-6231 to confirm spot.
--- Powerman 5000 ---
Helmed by vocalist Spider (aka Michael Cummings, also known as Spider One or MC Spider, and younger brother of Rob Zombie), the Boston-based underground electro-metal band Powerman 5000 earned a popular cult following along the East Coast before taking over the rest of the country with 1999's platinum-selling Tonight the Stars Revolt!
The group continued to ply their comic book hero/sci-fi-themed punk, hard rock, and industrial metal wares into the next two decades with highlights arriving via 2003's Transform and 2014's Builders of the Future, both of which saw Billboard chart success.
Videos:
https://www.youtube.com/watch?v=lsV500W4BHU
https://www.youtube.com/watch?v=fnayvmyploE
https://www.youtube.com/watch?v=h48ozMZP70Y
https://www.youtube.com/watch?v=CK-lK0LMhA4
More Info:
https://en.wikipedia.org/wiki/Powerman_5000
https://www.facebook.com/pg/Powerman5000/about/
--- Stitched Up Heart ---
Diamondz in Jerome had these guys quite a few times when nobody knew who the heck they were, but that sure has changed! We worked really hard to bring them back into the area. Not familiar with them? Check out some of their videos!
Remember when the Jewel the Diamondz cat had kittens during their set? https://www.facebook.com/diamondzbar/posts/pfbid05F4BNUgkDrTXsRzXKQFK6dksvkvsj16HwiWGG94bfLxYCzeFb3JrFF9ZFRWhAuMil
Videos:
https://www.youtube.com/watch?v=acZbW-CmUTA
http://www.youtube.com/watch?v=03S38V-vXDQ
http://www.youtube.com/watch?v=MDxZOOAaASU
More Info:
https://www.facebook.com/StitchedUpHeartRock/
--- Julien-K ---
Amir Derakh and Ryan Shuck have been musical partners for 15+ years. During their time together they have weaved in and out of mainstream music like a constantly evolving musical fashion house. In the late 90's they were responsible for massive radio and sales hits such as "Blind" (Korn), "Blue Monday"," Stitches", and "Fiction" (Orgy), and recently "Crawl Back In" and "Let Down" (Dead By Sunrise with their pal Chester Bennington).
After enjoying years of traditional music business success, they have spent the last 10 years methodically moving away from the mainstream approach that put them on the map, opting to carefully steer their fans in a new direction, towards their new independent alternative electro rock project Julien-K – which sounds more at home with the likes of modern acts such as M83, The Kills, LCD Soundsystem, The Naked and Famous, Empire of the Sun, and even the Black Keys (see Derakh's sleazy electro-blues guitar playing on "We're Here With You").
Videos:
https://www.youtube.com/watch?v=q7da5lEzS6Q
https://www.youtube.com/watch?v=ioTlMZwZY20
https://www.youtube.com/watch?v=rA7g54KqiD0
More Info:
https://www.facebook.com/julienk
https://en.wikipedia.org/wiki/Julien-K
--- Priest ---
Priest, the band which features two former members of the Swedish metal outfit Ghost, have shared their latest single, 'A Signal In The Noise' – you can hear the track below.
https://youtu.be/ombPL0ODatY
The trio, who have been releasing music since 2017, consist of vocalist Mercury (who was known as Water when he played bass for Ghost), keyboardist Salt (formerly known as Ghost keyboardist Air) and programmer/keyboardist Sulfur.
Videos:
https://www.youtube.com/watch?v=ombPL0ODatY
https://www.youtube.com/watch?v=JEsofx5SiG8
https://www.youtube.com/watch?v=Hqn0SSoPRPQ
More Info:
https://www.facebook.com/priestofficial
https://www.priestnexus.com/
-------------------------------------------
Ticket Terms & Conditions: This is a revocable license to the bearer only and may be revoked at any time for any reason. The holder of any SRB ticket voluntarily assumes all risks and danger incidental to the event for which the ticket is issued. Whether occurring prior to, during, or after the event. Holder voluntarily agrees that the management, facility, participants, artists and all of their respective agents, officers, directors, owners, and employees are expressly released by holder from any claims incidental to the event or purpose for which the ticket is issued. No re-admissions. No cameras or recording devices are permitted without prior permission. All tickets are purchased at risk of inclement weather. Management is not responsible for lost articles, misplaced or stolen at the event for which ticket grants admission. Time, date, and location of event are subject to change. Tickets will not be replaced, refunded or exchanged for any reason. Shipping, handling and service charges are non-refundable, even if the event is cancelled. No food or beverages may be brought into the event. No pop-up tents or umbrellas. You must be 21 or older to consume alcohol. No contraband or illegal substances. No dogs, cats, or pets/animals of any kind. Non-SRB event posting, ticket &/or merchandise sales are not allowed. No laser pointers, skateboards, or items that are known to be used as a weapon.
About the organizer
Snake River Bros is a non-profit 501(C) 3 motorcycle organization that raises money to help children in need. Since our inception in 2001, we have donated over $500,000. Funds are raised through: membership dues, organized motorcycle rides, rallies, newsletter advertising, raffles and auctions from the donations from the hearts of people who want to help the children in the Southern Idaho and Northern Nevada area with debilitating injuries or diseases, and bona-fide organizations that help these area children.