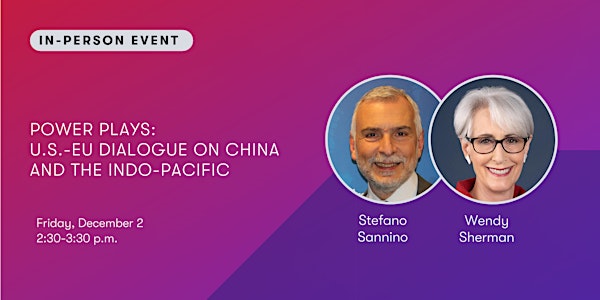 Power Plays: US-EU Dialogue on China and the Indo-Pacific
Join us for a conversation with US Deputy Secretary of State Wendy Sherman and Secretary General of the EEAS Stefano Sannino.
When and where
Location
American University, School of International Service, Founders Room 4400 Massachusetts Avenue NW Washington, DC 20016
About this event
At 2:30 p.m., Friday, December 2, SIS welcomes US Deputy Secretary of State Wendy Sherman and Secretary General of the European External Action Service Stefano Sannino for a discussion on US and EU engagement in the Indo-Pacific region. Deputy Secretary Sherman and SG Sannino will each deliver brief introductory remarks, followed by a Q&A moderated by SIS dean Shannon Hader. They'll explore the themes considered during the most recent US-EU dialogue on China and reflect on US-EU consultations on the Indo-Pacific.
This exciting event takes place against the backdrop of the December 1 US-EU Dialogue on China and December 2 US-EU Indo-Pacific Consultations, during which Deputy Secretary Sherman and SG Sannino meet in Washington, DC, for two days of high-level discussions on a range of foreign policy issues. It is an opportunity for Sherman and Sannino to connect with a broader public on shared US-EU policy priorities—and a chance for SIS students to get a closer look at the work of foreign policy and diplomacy by engaging directly with two of the most senior policymakers in the US and Europe.
Biographies
Stefano Sannino has served as the Secretary General of the European External Action Service (EEAS) of the European Union since January 1, 2021. He previously held the post of the Deputy Secretary General for Economic and Global Issues at the EEAS, and from March 2016 to April 2020, he was Ambassador of Italy to Spain and Andorra.
From July 2013 until March 2016, Sannino held the position of Permanent Representative of Italy to the EU in Brussels. In the European Commission, he notably held posts in the Cabinet of the President (2002 to 2004), as Director for Latin America (2008-2009), Deputy Director General for Asia and Latin America (2009-2010), and as Deputy Director General and later as Director General for Enlargement (2010-2013). From 2006 to 2008, he was the Diplomatic Advisor to the Italian Prime Minister and his Personal Representative to G8 summits. Within the Italian Diplomatic Service, Sannino served as Deputy Head of Mission of the Italian Embassy in Belgrade (1994-1996), Head of the Secretariat of the Under-Secretary of State for Foreign Affairs (1996-1998), and Diplomatic Advisor and Head of the Cabinet of the Minister of Foreign Trade (1998-2001). Sannino has also held the position of Ambassador and Head of the OSCE Mission in Belgrade (2001-2002).
Wendy R. Sherman was sworn in as the 21st and first female Deputy Secretary of State on April 14, 2021. Prior to assuming this position, Deputy Secretary Sherman was professor of the practice of public leadership and director of the Center for Public Leadership at the Harvard Kennedy School. She was also a Senior Fellow at the School's Belfer Center for Science and International Affairs and a Senior Counselor at Albright Stonebridge Group.
From 2011-2015, Deputy Secretary Sherman served as Under Secretary of State for Political Affairs, where she traveled to 54 countries and led the US negotiating team that reached agreement on a Joint Comprehensive Plan of Action between the P5+1, the European Union, and Iran for which, among other diplomatic accomplishments, she was awarded the National Security Medal by President Barack Obama. She previously served at the State Department as Counselor under Secretary Madeleine Albright, as Special Advisor to President Clinton and Policy Coordinator on North Korea, and as Assistant Secretary for Legislative Affairs under Secretary Warren Christopher.
Deputy Secretary Sherman also previously served on the President's Intelligence Advisory Board, was Chair of the Board of Directors of Oxfam America, and served on the US Department of Defense's Defense Policy Board and Congressional Commission on the Prevention of Weapons of Mass Destruction, Proliferation and Terrorism.
Shannon Hader, MD, MPH, former Assistant Secretary-General of the United Nations and Deputy Executive Director of Programmes at the Joint United Nations Programme on HIV/AIDS (UNAIDS), professor, and a prominent leader in the fight against HIV/AIDS in the United States and globally, is the dean of the School of International Service at American University.
Before accepting the position at the UN, Dr. Hader served as Director of the Division of Global HIV and TB at the Centers for Disease Control and Prevention. She also has served as Vice President and Director at Futures Group International (now Palladium); as Senior Deputy Director of the HIV/AIDS, Hepatitis, STD, and TB Administration at the District of Columbia Department of Health; Senior Scientific Advisor to the President's Emergency Plan for AIDS Relief at the US Department of State. She's lived, worked, and studied democratic change in Taiwan and, in China, has done clinical work at Beijing #1 Hospital and public health work in XinJiang.