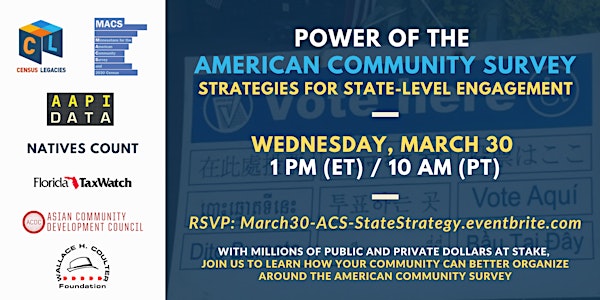 Power of the ACS: Strategies for State-Level Engagement
With millions of dollars at stake, how can your state or community better organize around the American Community Survey?
By Center for Social Innovation, UC Riverside
Date and time
Starts on Wednesday, March 30, 2022 · 10am PDT
About this event
In 2020, Minnesota was able to retain a Congressional seat by the narrowest of margins (by only 26 people!). This victory was built on six years of stakeholder engagement and strategic organizing.
Join us for a webinar on March 30, to learn more about the Minnesota model, and how your state or community can better organize around the American Community Survey—in order to ensure adequate federal funding today, and to build a more solid foundation for a successful Census count in 2030.
In addition to the Minnesota case, we will hear from early and promising efforts to organize the business community in Florida, the Asian American community in Nevada, and Native American and AAPI communities across the country.
Speakers include:
Sue Van, Wallace H. Coulter Foundation
Joan Naymark, Minnesotans for the ACS and 2030 Census
Susan Brower, Minnesota State Demographer
Jim Tucker, Natives Count
Howard Shih, AAPI Data
Susan Racher, Wallace H. Coulter Foundation
Tony Carvajal, Florida TaxWatch
Dr. Jerry Parrish, Florida State University
Vida Lin, Asian Community Development Council (Nevada)
Karthick Ramakrishnan, Census Legacies and AAPI Data
Tentative Agenda:
MACS case study (10 min)
Plans for Florida (5 min)
ACS engagement strategy in Native Communities (5 min)
ACS engagement strategy in AAPI communities (5 min)
Community perspectives from leaders in MN, NV, and FL (15 min total)
Next steps, call to action (5 min)
Strategy workshop / after-party (30 min)
About the organizer
The Center for Social Innovation—which is the result of two years of planning, community engagement, and foundation dialogue—aims to provide a credible research voice that spurs civic leadership and policy innovation. We also aim to integrate researchers, community organizations, and civic stakeholders in collaborative projects and long-term partnerships that boost collective impact. Importantly, the Center seeks to shift away from a "problem" narrative to an "opportunity" narrative for marginalized communities and localities.