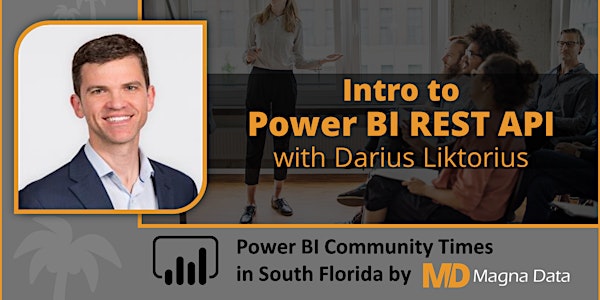 [ Power BI Community Times] Intro to Power BI REST API
Power BI Community Times by Magna Data is a free space dedicated to bring Data Professionals together, learn & share knowledge.
About this event
2PM PDT/4PM CDT/5PM EDT **US Time zone**
Online - Microsoft Teams Meeting
Power BI Community Times in South Florida 2021 welcomes Darius Liktorius to tell us all about the Power BI REST API!
Abstract
Join us to learn how the Power BI REST API can help you and your organization automate the management of the Power BI Service, publishing of your reports and more.
About the Speaker
Darius Liktorius, Cloud Solution Architect
Darius has over twenty years of hands-on, technical and managerial experience in Solutions Architecture, Performance Optimization, Database Administration & Optimization, Infrastructure Engineering, Software Development and Cloud Solutions (both Azure and AWS). He has advanced numerous organizations from startups to non-profits and Fortune 100 enterprises through the use of technology, and mentored hundreds of developers, DBAs and engineers.
Follow Darius:
https://www.linkedin.com/in/dariusliktorius/
https://twitter.com/dliktorius
------------------------------------------------
Meetup Organizer and Sponsor
https://www.meetup.com/Power-BI-Community-Times/
https://www.youtube.com/c/MagnaDataInc
Contact Magna Data for help with your Data, Analytics and AI Solutions using Microsoft Azure Cloud and Power BI.
Microsoft Certified Partner in Data Analytics and Power BI.
info@magnadatasolutions.com
*by registering at this event we will add you to our communications so you don't miss our future events ;)