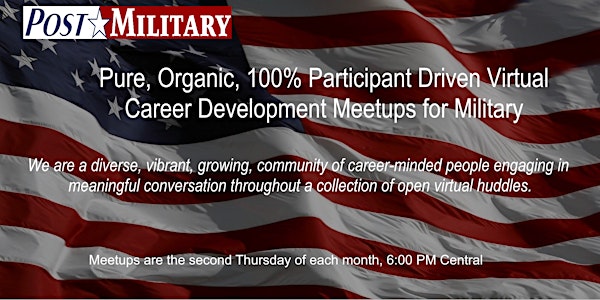 Multiple dates
PostMilitary - Participant Driven Virtual Career Meetups for Military
Pure, organic, 100% participant-driven virtual career development Meetups for military. Join us Thursday, March 10, 6:00 PM Central
By Bernard Beaullieu, PostMilitary
Date and time
February 11, 2021 · 5pm - March 10, 2022 · 6pm PST
About this event
Welcome to PostMilitary! We are a vibrant, diverse, community of career-minded people engaging in meaningful conversation throughout a collection of open virtual huddles on the all-new Toucan Open Virtual Networking Platform! We believe this new platform will allow you the freedom and access to find and engage anyone you want within the Meetup.
Our mission is to help people define and achieve the success they desire. We believe we can do that by driving engagement and real conversations all aimed at helping people find belief and optimism in life PostMilitary!
We aspire to be a "Pure" and valued resource in the PostMilitary Career Transition space.
Our Meetups are FREE and target helping Transitioning Military, Military Spouses, and Veterans in their career pursuits.
Monthly Participant Driven Virtual Career Networking Meetup
We are launching a monthly virtual career development meetup that closely resembles the experience of being at a networking event in person. Our target audience is Transitioning Military, Veterans, and Military Spouses. We want to empower you to walk in, use a concierge if needed, roam at will, introduce yourself, ask questions, provide perspective, and engage in a real conversation. We meet on the second Thursday of every month, 6:00 PM Central. These events will be offered at no cost.
Sound chaotic? Good networking events are. We believe this will be a powerful experience. We want these meetups and really everything we do to be about YOU! You drive the conversation, engagement and set the agenda. We will have a Concierge to help guide you on your journey.
We are moving away from Zoom and will be using the Toucan platform. This is an open Virtual Social Platform that gives you the ability to look into virtual huddles, (Called Bubbles), and freely join whichever group or person you want to connect with. We will continue to have a concierge, look for Chad.
Thank you for considering joining our event. We look forward to serving you.
About the organizer
Our Passion, our mission is helping people achieve the success they desire! Our vision is to provide a virtual networking platform that is 100% driven by the people seeking to enhance their #postmilitary careers by connecting with people, developing relationships,sharing perspective, and learning about the vast resources available to help them achieve the success they desire.
What sets us apart is an almost chaotic approach to virtual meetups, that encourages participants to roam our virtual landscape, and connect with the people they believe can help them.