Sales Have Ended
Registrations are closed
Sorry, ticket sales have ended for this event.
Event Information
Refund policy
Refunds up to 7 days before event
Sales Have Ended
Registrations are closed
Sorry, ticket sales have ended for this event.
Description
Course Description

Instructor James Schwab, FAICP
Principal of Jim Schwab Consulting LLC
There is a growing understanding in many U.S. communities of the value of planning for post-disaster recovery not only after a disaster has occurred, but before it has ever happened? The functions of these two kinds of plans are very different, but the first can lay the groundwork for much greater success in the second. This course will explore how civic leaders can use both to rebuild more resilient communities better prepared to face future emergencies.
This course will consist of two two-hour segments. The first will review the overall concept of recovery planning and the need for widespread involvement by various sectors of the community. It will discuss the general meaning of resilience as a precondition to understanding how pre-disaster planning for recovery enhances resilience. With that background in place, most of the first segment will then be devoted to an in-depth discussion of what communities can achieve through pre-disaster plans for post-disaster recovery:

• Building a local culture of disaster awareness;
• Providing a focus for pre-disaster exercises;
• Establishing clear lines of responsibility for recovery efforts;
• Reviewing financial needs for long-term recovery; and
• Establishing policy priorities to guide recovery efforts.
The second segment will begin by summarizing how this sort of preparation can facilitate much more efficient recovery efforts in the event of an actual emergency or disaster. The immediate aftermath of a real disaster is the worst possible time to develop the needed working relationships among agencies and institutions, and across jurisdictional lines and between levels of government. Having these in place invariably expedites recovery efforts and improves resilience in the process. This second segment will walk participants through the kinds of information a community needs to gather quickly regarding the nature and extent of damage, assessing the scale and spectrum of the disaster and why that matters in assessing recovery needs, and how to involve the public in meaningful long-term recovery planning. Both segments, but particularly the second, will review relevant policy sectors that must be addressed for a comprehensive effort at long-term recovery. Throughout the course, we will also discuss nagging and difficult questions pertaining to social equity, protecting vulnerable populations, and environmental justice.
Sessions will be held on Aug. 21 & 22, 2018. Each session will be recorded on video, so if you have to miss a live session, you'll have access to the recording on the following day and for 30 days thereafter. Register by Aug. 3 to take advantage of all discounts. (See group rates below.)
All class sessions begin promptly at 10 a.m. Pacific, 11 a.m. Mountain, Noon Central and 1 p.m. Eastern.

OUR INSTRUCTOR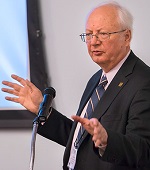 James Schwab, FAICP, is currently the principal of Jim Schwab Consulting LLC, a sole proprietor firm based in Chicago. His current projects include work with the National Drought Mitigation Center and the Association of State Floodplain Managers, which recently awarded Jim the Goddard-White Award for national impact to floodplain management. Jim has taught since 2008 as adjunct assistant professor in the University of Iowa School of Urban and Regional Planning, with an MA course on "Planning for Disaster Mitigation and Recovery." He is also a public speaker and author who is currently working on books on the 1993 and 2008 Midwest floods.

Until June 2017, Jim was the manager for the Hazards Planning Center at the American Planning Association. In that role, he led pioneering studies on planning for post-disaster recovery and the integration of hazard mitigation into the local planning process, as well as the incorporation of climate change data into local planning and capital improvements planning. In 2016, he was inducted into the prestigious College of Fellows of the American Institute of Certified Planners. His numerous publications and more detailed biographical information can be obtained from both his business website, www.jimschwabconsulting.com, and his personal website, www.jimschwab.com, which contains his popular blog, "Home of the Brave." He is also the chair-elect of APA's Hazard Mitigation and Disaster Recovery Planning Division.



Learning Objectives:
• The definition of both disaster awareness and resilience at a community level
• Fundamental understanding of the goals of recovery planning both pre- and post-disaster
• Understanding of the implications of both phases of recovery planning for building long-term community resilience
• Distinguishing the functions of pre- and post-disaster planning for long-term community recovery
WHO SHOULD ATTEND
The intended audience includes municipal, state and federal government employees and private-sector consultants responsible for initiatives related to resilience and disaster recovery planning, as well as civil engineers, sustainability managers, urban planners and architects.
Class Format
Each registrant will be provided with electronic copies of course materials prior to the online course.
Each class will include lecture and Q & A. Sessions will utilize GoToWebinar.com. A quiet room and a reliable Internet connection are required to take this course. See GoToWebinar.com for technical requirements.
Certificates of completion for 4 professional development hours will be provided to all attendees after the last class session.

Reminder: Each class is recorded so if you have to miss any you will have easy access to the information for 30 days following the course.


Dates and Tuition
Dates: 2-hour sessions will be held on Aug. 21 & 22, 2018.
Each 2-hour sessions will begin promptly at 10 a.m. Pacific Time, which is 11 a.m. Mountain Time, noon Central Time and 1 p.m. Eastern Time.
Price: $286 when purchased by Aug. 3 ($343 value).
Group rates:

3-5 people: 20% off per person, enter promo code GroupRate3-5
6-9 people: 25% off per person, enter promo code GroupRate6-9
10-Plus people: 30% off per person, enter promo code GroupRate10-Plus
Refund policy
Refunds up to 7 days before event
Organizer of Post-Disaster Recovery - Webinar Series
Sustainable City Network is a business-to-government media and publishing company that provides elected officials, federal, state and municipal professionals, educational and healthcare institution staff with quality and timely information on sustainability products, services and best practices. Its academy offers cost-effective and time-efficient training opportunities for urban planners and sustainability professionals throughout North America. See sCityNetwork.com for more information.