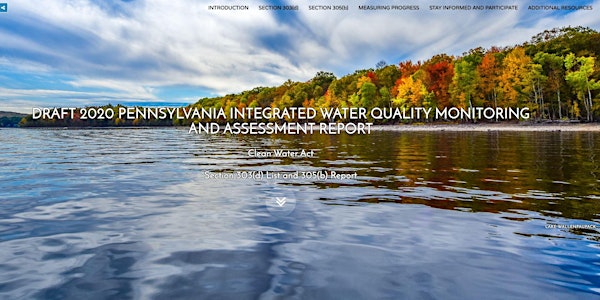 POSPONED Webinar: 2020 Integrated Water Quality Report and Map Application
POWR will host staff from the PA DEP to present the Draft 2020 Integrated Water Quality Report and Mapping Application
About this event
Join POWR and your community watershed organization colleagues for a presentation by PADEP staff on the Draft 2020 Integrated Water Quality Monitoring and Assessment Report which, once again, is available as an interactive web-based format. Like the 2018 report, this one conveys tremendous amounts of information in a way that is much easier to find, read, and understand than prior reports. Plus, DEP has updated the 2020 Integrated Report Viewer, which provides enhanced search capabilities and export functions. The combination of these two tools can help you access local water quality assessment information and make decisions about ways you can help maintain, protect, and restore those waters.
Though some background content will be similar to that presented in the webinar held last year, PA DEP staff will present some new information and updated features within these tools.
The webinar will be held on Monday, November 23 at 12 noon. Please register by Friday November 20th at 5 PM. You will receive and email Monday morning with a link to the webinar.