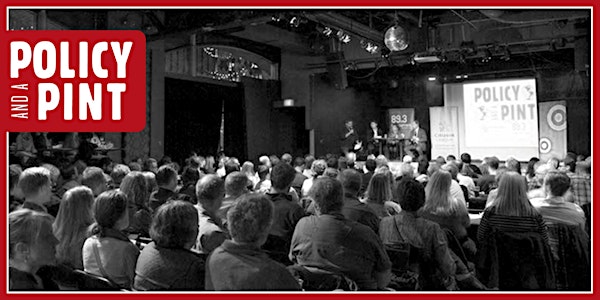 Policy and a Pint®: Talent Within Range
When and where
Location
Minnesota Discovery Center 1005 Discovery Drive Chisholm, MN 55719
Description
Policy and a Pint® heads to Minnesota's Iron Range on May 18th! Our event series sponsored by the Bush Foundation and Target, and presented by the Citizens League and The Current heads north to talk "Talent Within Range: Bridging the Workforce Divide in Greater Minnesota."
Thanks to the generosity of our sponsors, this event is now free! Register now!
At our next Policy & a Pint®, we will talk about what some areas in Minnesota have done and can do to create and maintain a strong workforce and bridge the talent divide in order to contribute to a strong state to live and work.
Minnesota has one of the lowest unemployment rates in the country. For the past three years the rate has been at or below 4%. Yet, certain Minnesota communities still struggle with unemployment. 10% of adults on the Iron Range are currently without work. At the same time, employers in certain communities struggle to find skilled labor to staff open positions. This workforce shortage continues to become more challenging as baby boomers throughout Minnesota reach and exceed retirement age, exiting the workforce and bringing decades of skill and experience with them.
A recent study by RealTime Talent finds that Minnesota will be short about 278,000 workers statewide by 2022. The irony of this dichotomy reveals a disconnect that exists in our state that presents both a challenge and an opportunity. How do we develop the talent of our currently unemployed and future workforce to match the skills needed by employers seeking, but not finding, a skilled workforce? What are the state and local leaders doing to identify workforce development challenges in Greater Minnesota, and what proactive steps are they taking to address those challenges? How do the public and private sectors come together to build a strong Minnesota for everyone?
The panel that has been assembled to lead this discussion has a goal to increase workforce skills among Iron Range residents throughout all working ages. The panelists for this event include:
Sandee Joppa is the Executive Director of Real Time Talent, an organization dedicated to using data to build the world's best workforce, right here in Minnesota. She has over 25 years of experience in Minnesota-based companies, including a decade as Vice President for the Donaldson Company—a Minnesota industrial manufacturing organization with more than 12,000 employees. She has previously worked at General Mills in corporate recruiting and human resources manager roles in manufacturing plants and sales and distribution, as a cooperate diversity manager and finally as director of Human Resources for multiple departments. Sandee also serves on the Luther College Board of Regents, the Luther College Audit and Outreach and Gifts Committees, and the Make-A-Wish Minnesota Human Resources Committee. Sandee has a bachelor's degree in English from Luther College and a Master's degree in Industrial Relations from the University of Minnesota. She is originally from Moorhead, currently lives in Plymouth, and spends as much time as possible with family and friends at her cabin in Buhl.
Aaron Brown runs MinnesotaBrown.com, a regional blog with a global perspective. He is a writer, radio producer and college instructor living and working by choice in the pine forests, tamarack swamps and hardscrabble mining towns not far from where he grew up on a family owned salvage yard in the Sax-Zim peat bog. He has written a column for the Hibbing Daily Tribune since 2001 and served as the paper's editor from 2001-2003. Having previously worked in radio, he now writes, produces and hosts the Great Northern Radio Show on Northern Community Radio. He is also an author having written Overburden: Modern Life on the Iron Range, winner of the 2008 Northeastern Minnesota Book Award. By day he is an instructor at Hibbing Community College in the field of communication. Aaron is married to the writer Christina Brown. They have three sons, Henry, Douglas and George, and live in the woods of Itasca County, home to more than 1,000 of Minnesota's famed "10,000 lakes."
Roy Smith serves in a joint position as the Director of Talent Development at the Iron Range Resources and Rehabilitation Board (IRRRB), a state economic development agency and Minnesota State Northeast Higher Education District (NHED). Together these organizations have focused their attention and resources on "education-based economic development" to ensure the Iron Range continues to produce a highly skilled, technologically advanced talent base by partnering with businesses and industry to create training programs at regional high schools and the colleges of the Northeast Higher Education District that meet the demands of the regional economy. He also serves as the Director of the Applied Learning Institute, an organization charged with renewing technical education in northeastern Minnesota. Roy sits on the northeast Minnesota Workforce Investment Board and is currently serving his second term as a Governor's appointee to the statewide Governor's Workforce Development Board. Prior to his role at IRRRB/NHED, he was a school administrator and classroom teacher for over 20 years. Roy has a bachelor's degree in Elementary Education from Bemidji State University and a Master's degree in Curriculum and Instruction from St. Cloud State University and an Educational Specialist degree in Organizational Leadership from the Fishler School of Graduate Studies.
Policy and a Pint®
Talent Within Range: Bridging the Workforce Divide in Greater Minnesota
Thursday, May 18
Doors: 5:30pm | Program: 6pm
Minnesota Discovery Center
1005 Discovery Dr
Chisholm, MN 55719 (map)
Tickets: Free!
Complimentary appetizers included, cash bar
---
Funded by Target and the Bush Foundation, Policy and a Pint® is an event series presented by the Citizens League and 89.3 The Current that engages people in important conversations about public policy in Minnesota.