Policies and programmes in the field of Personalized Medicine: first results of the mapping activities of the IC2PerMed project
About this Event
This workshop will provide the participants with a clear understanding of the iC2PerMed project aims.
This includes the mapping of Personalised Medicine policies and programmes in China and Europe and other activities in which a broad group of invited experts are called to join forces with the Consortium Partners, in order to foster EU-China collaboration in PM.
Advice, expectation, time frame and terms of collaboration will be widely discussed during this event.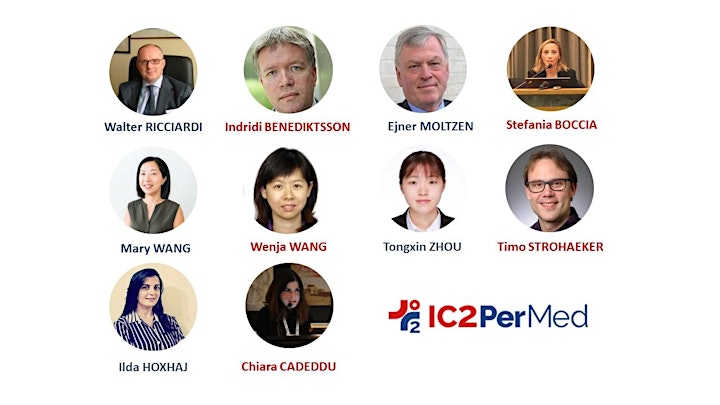 WELCOME AND INTRODUCTION
Walter Ricciardi, Università Cattolica del Sacro Cuore, IC2PerMed Coordinator:
Professor of Hygiene and Public Health at Università Cattolica del Sacro Cuore, Rome; Scientific Advisor to the Italian Minister of Health for the coronavirus pandemia; Scientific Director of Istituti Clinici Scientifici Maugeri; President of the World Federation of Public Health Associations (WFPHA); President of Mission Board for Cancer of European Commission.
Indridi Benediktsson, European Commission - Directorate-General for Research and Innovation, Policy Officer
Ejner Moltzen, ICPerMed, Chair:
Innovation Fund Denmark (IFD); Chair, ICPermed; Represents IFD in EU-Sino Permed
IC2PERMED: OVERVIEW OF PROJECT AIMS, ACTIVITIES, EXPECTED RESULTS
Stefania Boccia, Università Cattolica del Sacro Cuore:
Stefania Boccia is Full professor of Hygiene, Preventive Medicine and Public Health at UCSC in Rome. She is the Director of the Section of Hygiene of the Department of Health Science and Public Health of UCSC and President of the Public Health Epidemiology Section of EuropeanPublic Health Associations (EUPHA). Her main research interests concern personalized medicine policies in Italy and internationally, and the interaction between genetic and environmental factors in the risk and prognosis of gastric and head and neck cancer. In the past years she coordinated the "Personalized PREvention of Chronic Diseases" project (PRECeDI, EU-H2020 MSCA- RISE), for which she obtained a recognition from the ICPerMed Consortium. She currently coordinates the project titled "European network staff eXchange for integrAting precision health in the health Care sysTems" (ExACT) funded by the European Commssion (EC) within the H2020 Marie-Slodowska Curie projects (MSCA-RISE)and is a partner five other EC funded projects. She is the author and co-author of 240 scientific publications; H index (Scopus): 40; no. citations= 5968.
IC2PERMED: A BRIDGE BETWEEN ICPERMED AND CHINA
Mary Wang, Telethon Foundation:
Dr Chiuhui Mary Wang is a Partnership & Project Manager at Fondazione Telethon. Dr Wang has over 15 years of professional experience in biomedical research and has been contributing and leading in numerous European and international initiatives related to research policy and infrastructures. She is actively catalyzing genetic disease research innovation; with interest in funding management, public-private partnerships and patient engagement. Dr Wang participates in the International Consortium for Personalised Medicine (ICPerMed) Executive Committee, and is leading a workpackage in the IC2PerMed project on engaging China in PerMed research.
MAPPING OF PM POLICIES AND PROGRAMMES IN CHINA AND EUROPE
Sylvia Zhou/WenYa Wang, Tsinghua University:
Tongxin ZHOU (Sylvia) is research assistant, School of Pharmacy, Tsinghua University. She has the degree of Master of Public Health (MPH) at the University of Hong Kong and B.S at China Pharmaceutical University.
Wenya Wang is research professorship, School of Pharmacy, Tsinghua University. Before Tsinghua University, She worked as Deputy Secretary General of China Quality Association for Pharmaceuticals, responsible for HA engagement and policy research in 2007. She had worked in BMS as Associate Director, China Policy, Regulatory Policy of Global Regulatory Science since 2011-2016. Prior to joining BMS, she worked at State food and drug administration (former China FDA) over 7 years, as Principal Staff Member (2005) and Deputy Division Director (2007) of division of drug research & supervision at Department of Drug Safety & Inspection and Department of Drug Registration, respectively. Before SFDA, she was instructor in the Seconded Military Medical University, and prior to that, she was assistant researcher at Institute of Pharmacology and Toxicology, Academy of Military Medical Sciences after graduated from the college.
Timo Strohäker, Steinbeis 2i:
Project Manager at Steinbeis 2i GmbH and Ph.D. in Biochemistry (University of Göttingen), Timo is an expert in the field of biomarker research in Parkinson's disease. His former research project focused on the structural characterization of neuropathological protein aggregates derived from patient brain extracts.Their findings have significant ramifications for the use of patient brain extracts in the context of precision medicine and disease typing.
Ilda Hoxhaj, Università Cattolica del Sacro Cuore:
llda is a Medical Doctor, currently a PhD Candidate in Biomedical Sciences and Public Health at the Catholic University of Sacred Heart, Rome. She has been a fellow of the Horizon 2020 project "Personalized Prevention of Chronic diseases (PRECeDI) at Erasmus MC, Rotterdam, studying the metabolomic profile of Head and Neck Cancer patients. She has been a fellow of the Horizon 2020 project "European network staff eXchange for integrating precision health in the health Care systems (ExACT) at the Basque Office for Health Technology Assessment, Bilbao, working on health technology assessment of omics technologies. She is a research collaborator at the Center for Research and Studies on Procreative Health (CeRiSSaP), at the Catholic University of Sacred Heart, Rome. She has been working within The Innovative Partnership for Action Against Cancer (iPAAC) Joint Action, focusing on literacy and capacity building of citizens and healthcare professionals in genomics and cancer genomics.
SHIFTING THE MAPPING RESULTS IN A ROADMAP FOR PM: NEXT STEPS FOR THE KNOWLEDGE SYNTHESIS ON THE IDENTIFICATION, TRANSFERABILITY AND SCALING UP OF INTERNATIONAL STANDARDS IN PM
Chiara Cadeddu, Università Cattolica del Sacro Cuore: :
Medical Doctor, Public Health Specialist ; Project Manager, Coordinating team of IC2PerMed; Currently Academic Researcher at the Hygiene Section of the Department of Life Sciences and Public Health at Università Cattolica del Sacro Cuore in Rome, Italy; previously Researcher at the National Centre for Health Technology Assessment of the Italian National Institute of Health
DISCUSSION AND CONCLUSIONS