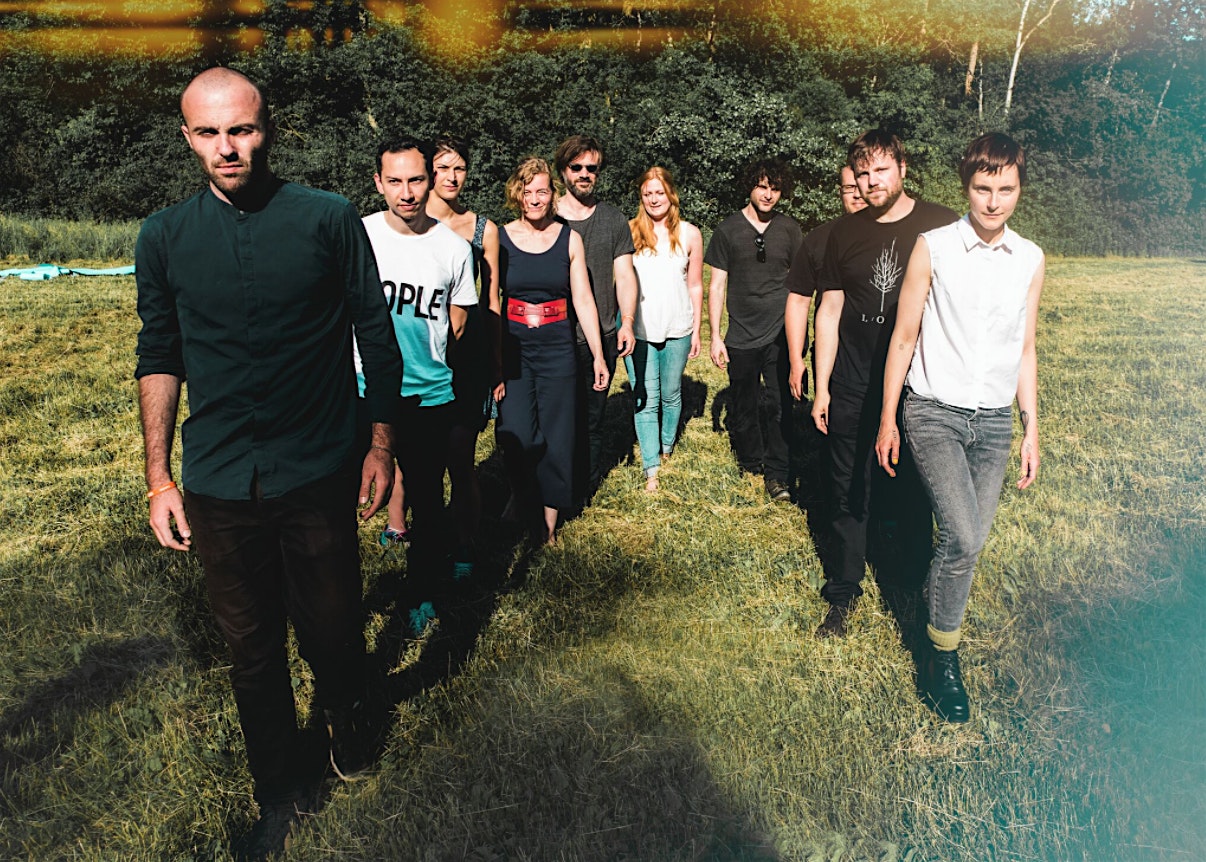 About this event
POLIÇA
Facebook | Instagram | Website
". . . compared to the current glut of mannered, coming of age-themed electronica, this feels far more substantial." -The Guardian
S T A R G A Z E
Facebook | Instagram | Website
About the Show:
Doors 7pm / 8pm
If the opening moments of POLIÇA's new album, United Crushers, leave you feeling unsettled, then Channy Leaneagh has done her job. With her voice pitch-shifted down into an ominous, nearly unrecognizable register, she sings of a post-industrial urban landscape littered with broken promises, a land of poverty and violence that's been rigged against us from the start. Despite all that, though, there is an element of defiance, a refusal to surrender in her delivery of the lyrics. Halfway through that first track, "Summer Please," when her gorgeous true singing voice enters on top of the deep and disturbing baritone, there is a moment of hope and transcendence, and it's the key to unlocking United Crushers, POLIÇA's third full-length release and most ambitious album to date. Even at its darkest, the record is musically the band's most upbeat and celebratory. It is a weapon meant to empower the weak, the forgotten, and the disenfranchised; it's very creation an act of rebellion in the face of the such forces as repression, social injustice, and one's own self-doubt and isolation.
United Crushers was born out of the longest break from touring in POLIÇA's history. The group originally emerged from Minneapolis in 2011 when Ryan Olson, GAYNGS leader, producer and Minneapolis' master of curation, began collaborating with Leaneagh on a batch of synthesizer and percussion-heavy arrangements he had lying around. The resulting debut, 2012's Give You The Ghost, immediately garnered international acclaim, with Rolling Stone hailing it as "the sound of heartbreak and celebration happening simultaneously" and Q praising it as "a bewitching, urgent, magical debut." The quick success of Give You The Ghost brought with it a heavy touring schedule and an itch to keep creating. Taking just a few months off from the road, the band ventured into the studio and emerged with their follow-up, Shulamith, in the fall of 2013. EW called that album "propulsive enough for dance floors, and dreamy enough for headphones" and MOJO said it "proves that intelligent pop music still has the ability to seduce and enthrall." Bolstered by a live lineup of dual drummers, Drew Christopherson and Ben Ivascu, Chris Bierden on bass and Leaneagh's powerful voice, the band conquered massive festivals around the world from Coachella to Glastonbury in addition to performing on Late Night With Jimmy Fallon and Later With Jools Holland.
Following the whirlwind of it all, they returned home to Minneapolis for a much-needed break, to live life off the road for the first time in two years and build up inspiration for the next go-around. The winter of 2015 was spent writing together, in the same room. This was a new and welcome approach compared to how the first two POLIÇA albums came to be, with each member contributing equally to the songs' creation. As the snow began to melt in Minnesota, they journeyed to quite the opposite landscape in El Paso, TX, where they holed themselves up in the desert at the renowned Sonic Ranch Studios just a few short miles from the United States/Mexico border. There, they applied the same collaborative approach they took in the writing of United Crushers to the recording of it – together, in the same room. The result is an evolved sound, more live, bigger, crisper and with more of a hi-fi punch. There's a tighter groove to these songs and a more vulnerable quality to them, especially in Leaneagh's singing. Her impressive vocal range is consistently on display throughout, beautifully raw and less electronically effected than on previous recordings.
It was also during the extended break from touring in which Leaneagh decided to have a second child. "A woman gains amazing powers during pregnancy and motherhood; it's beautiful and mystical, but it's also a gigantic upheaval of one's self and pursuits," explains Leaneagh. The act of balancing between such pure joy and frantic worry about having a baby while also making a record bore the song "Someway" a catchy bundle of nervous synthesizers and racing heartbeat percussion. But for the most part, pregnancy prompts Leaneagh to look outwards rather than in as she grapples with the gravity of the world her children are set to inherit. "When you're pregnant, you're at your most vulnerable and protective." The terror of "Summer Please" is filtered through the eyes of mothers warning their children as they head out into the violent streets, while "Wedding" was written in reaction to the intertwined epidemics of police brutality and institutional racism, and "Melting Block" starts its story off with an "everyone's-a-sheep-in-wolf's-clothing"-type mantra and evolves into a giant middle finger pointed at the societal effects of commercialism.
As political as the statements on the record are, United Crushers is also a deeply personal album. Leaneagh reminds herself to stand firm in the face of self-doubt and manipulation on "Lime Habit," overcomes music industry machinations with triumphant horns on "Baby Sucks,"and recognizes important truths of independence on "Lose You." Stringing the songs together is a thematic thread of isolation: the fear of being alone, the instinct to hide our true selves for protection, the way in which lovers can each retreat inwards.
Throughout it all, though, there always remains a sense of defiance and celebration in the music to counter those apprehensions and anxieties. Leaneagh suspects it may have its roots in her early days as a folk singer. "When you sing old folk songs about sad things, it does something to your heart that actually uplifts it," she says. "I believe that about these songs, too."
There is a darkness to United Crushers, but it doesn't win. Dreams may be dashed and promises may be broken, the world may be full of disappointment and pain and violence, but if you're in the midst of it all feeling lost and hopeless on the streets of Minneapolis, all you have to do is look up.
Organizer of POLIÇA and s t a r g a z e with Divide and Dissolve @ Thalia Hall
Thalia Hall is a historic landmark located in the Pilsen neighborhood of Chicago. It was founded by John Dusek at the turn of the century as a neighborhood establishment. Dusek was a family man, a tavern owner, and a facilitator of the arts. He was a visionary, and the founding father of Thalia Hall. His hope for the corner of 18th & Allport was to build a public hall for the community. In 1892 his dream became reality: a multi-purpose property that would offer commercial storefronts, residential housing, and a hall for the community. In September 2013, owners Bruce Finkelman [Beauty Bar, Bite, Empty Bottle, EBP, Longman & Eagle] and Craig Golden [Longman & Eagle, Space, Union] launched three new concepts within this storied property: a re-established beer inspired restaurant, a Punch focused cocktail bar, and a public hall fit for all types of events.