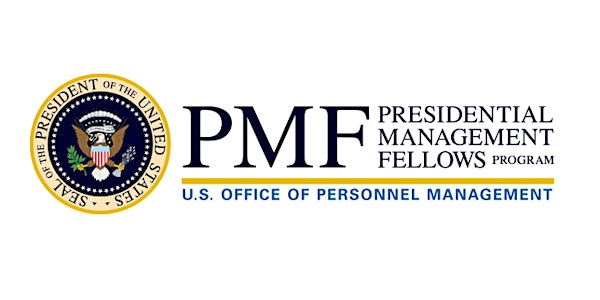 PMF Program Info Session: Class of 2022 Application
PMF Program Info Session on the Class of 2022 Application
By Presidential Management Fellows (PMF) Program
Date and time
Thursday, September 23, 2021 · 12 - 1pm PDT
About this event
This informational webinar will provide a general overview of the Presidential Management Fellows (PMF) Program, details about the 2022 application cycle, and, if time permits, allow for any questions. This session is open to all academic disciplines.
The PMF Class of 2022 Application is scheduled to open at Noon (Eastern Time), Tuesday, September 28, 2021, and close at Noon (Eastern Time), Tuesday, October 12, 2021.
These dates, and any updates, can be found on our "2022 Application" webpage at https://www.pmf.gov/become-a-pmf/2022-application/. We expect to announce PMF Class of 2022 Finalists approximately six weeks after the application closes.
A full list of informational webinars is also posted to the above webpage.
This webinar will be hosted on Microsoft Teams and closed captioning will be provided. Please click the following link to join the webinar: https://teams.microsoft.com/l/meetup-join/19%3ameeting_MDdiOWRjMTctZWIxYS00ZGM2LWIzODctNDc4ZWRkMGE0ZGE2%40thread.v2/0?context=%7b%22Tid%22%3a%22844ef997-7b63-48f0-882a-7dc8162e363b%22%2c%22Oid%22%3a%227c21e2a8-4e81-4ce8-9b9d-ad3b824f2394%22%2c%22IsBroadcastMeeting%22%3atrue%7d&btype=a&role=a