Plug and Play Detroit, Powered by AmplifyD Informational Session Webinar
Plug and Play Detroit, Powered by AmplifyD Informational Session Webinar
About this event
Please join us for a free webinar on September 9 from 11:30am–12:30pm ET to learn about this unique innovation platform – Plug and Play Detroit, Powered by AmplifyD – and how YOU can benefit from MMSDC's partnership with Plug and Play.
​​In partnership with Stellantis, BorgWarner, Michigan Economic Development Corporation (MEDC), Google, and Plug and Play, this program promotes diversity by supporting mobility and Industry 4.0 startup technologies founded and led by women and minority entrepreneurs. Each cohort participating in our accelerator will have a minimum of 40% women and/or minority-led startups.
Whether you're a tech startup looking to scale, an MBE looking to invest in innovative technology, a Corporation looking for streamlined access to a diverse group of tech companies on the cutting edge of mobility and Industry 4.0, or just looking to learn more… you'll enjoy & benefit from this informational session, so be sure to register today because capacity is limited!
Click HERE to hear from Detroit Batch Zero participants about their program experience!
Agenda
Learn about the program's history and results
Application and Selection Process
Learn about how to apply and what to expect in the process
Desired Outcomes / Benefits
Q&A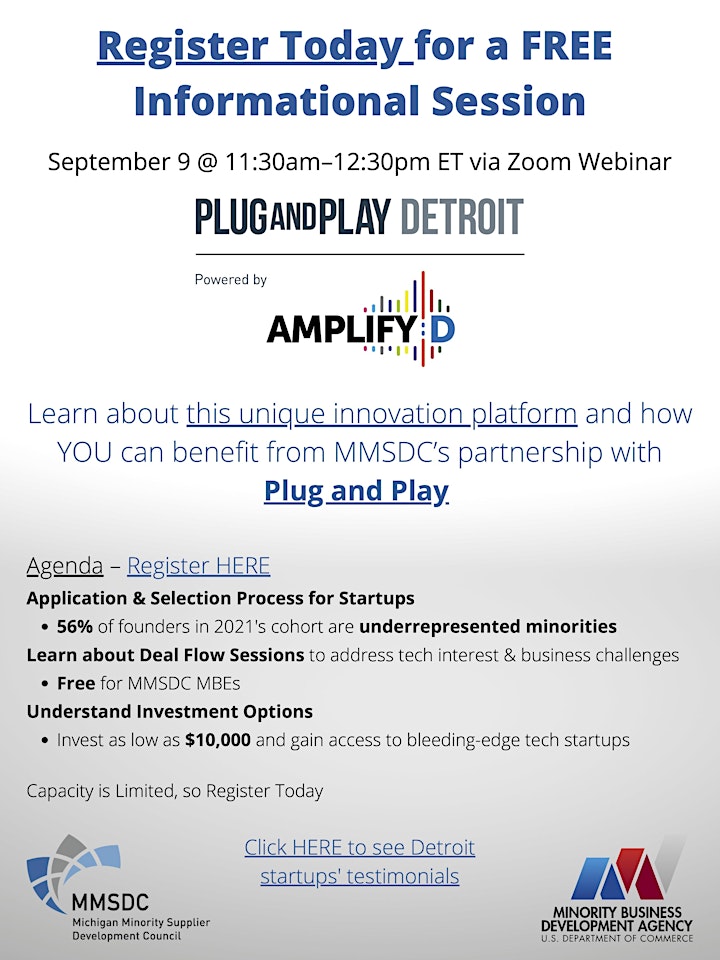 Organizer of Plug and Play Detroit, Powered by AmplifyD Informational Session Webinar